Increase your website`s audience!
You must always be aware that neglecting your website`s accessibility means depriving your organization from millions of potential visitors, that counts for 15% and 20% of the population, because suffering from visual, hearing or motor handicap and other disabilities.
By improving your website`s accessibility with Equalweb, you will reach a wider audience and increase your website`s traffic.
Show the world's internet users that you support EQUALITY!
Equalweb will allow your company to provide equal access and use of internet to everyone, without discrimination. It is a real gain in terms of brand image and positioning: your company cares for social inclusion!
Because you got sued and need an excellent and fast Accessibility Solution?
Equalweb will help your organization avoid future law suits by complying with your country's accessibility regulations, wherever you are!
Upon request, we will solve your accessibility's compliance's issues, by analyzing your website and quickly send you a complete report regarding your digital assets' accessibility situation.
HOW? EQUALWEB'S TOOLS AND PROCESS
Equalweb's technology is based on online remediation widgets that are unobtrusively present on all your web pages, through fast-managed yet customized services, always adapting to your website`s design, to ultimately provide accessibility to all users.
Equalweb developed a unique online remediation widget with 27 accessibility functions for an optimal browsing experience. Its comprehensive accessibility menu provides incredible features such as screen reader adjustment, keyboard navigation, numeric navigation, blink block, text reader, voice commands, color adjustments, font sizing, and many others.
Fast deployment
Intuitive and easy-to-use
Supports 32 Languages
No change of your site's source code!
No effect on your site`s functionalities, design, information, display or content
Continuous updates to comply with international accessibility standards
SaaS module to make sure your site is accessible at all times!
ACCESSIBILITY AUTO AI
Blind and low-vision users, as well as those with mobility disabilities, rely on their keyboards — not a mouse — to navigate websites. Entering a website, they will hit the TAB key and will get notified that the EW accessibility toolbar is installed for easy navigation.
EqualWeb`s AI allows the visitor to personally adjust your website`s design to his individual need or disability. Each function on the AI is designed to cover the accessibility requirements relating to the UI, the design and the readability and visuality of the website.
By triggering the AI, visually impaired users, users with cognitive disabilities, epileptic users, and others, can modify your site's design to meet their specific individual needs. The user preferences will be saved for his next visits.
For example, a user can choose to enable different adjustments, such as to increase font sizes, change color contrasts, stop animations, and more.
IMAGE DESCRIPTION
The Image Description functionality adds descriptions to all images, even without ALT-TEXT. It ensures ADA compliance for all image text, even if you accidentally miss an ALT TAGS.
Our technology utilizes Google's Optical Character Recognition to identify images without ALT tags and automatically insert descriptions for the visually impaired. Upgrading to Equalweb Premium Solution, for the perfect descriptions manually selected by our accessibility experts, is for sure better than relying on the occasionally inaccurate machine-generated descriptions.
Premium Accessibility Plan combines Manual Adjustment and testing by our Expert Accessibility Engineers.
Our cutting-edge AI accessibility Solution, combined with manual adjustments can be deployed to all websites and platforms immediately; it is easy to use and meets all international accessibility standards.
The Ai solves many of the accessibility errors like key board navigation issues, contrast but not all. It really does a good job but, but like any machine, it has its faults when it gets to full compliance. This plan comes with the 1M warranty and includes human interference.
It all depends on what you are aiming for in terms of accessibility… Just keep in mind that no Ai widget will solve fundamental accessibility issues. The AI widget misses the structural markup (that correctly and semantically identifies page elements such as headings, lists, labels/names for form controls) and keyboard traps as a result of non-show elements and delicate contrast issues.
With the combination of our maintenance and update services, our tool will keep your website compliant even through uploading new content.
The Manual remediation done is stored in the cloud, this way we can run adjustments and updates to the tool.
Manual adjustments include:
Dividing the website into separate navigation areas and making the central elements focusable.
Creating a shortcut menu to the website navigation areas.
Ignoring/hiding elements that are/aren`t intended to be read/in focus.
Changing and adding attributes to the existing elements on the page.
Group links – aggregating multiple, related links in the same area on the page (links that lead to the same destination)
Forcing events – triggering a JS event when another event occurs
Handling dialogue boxes (+ popups)
Handling customized form elements
Handling tabs-panels
Handling sub-menus
Creating customized tool-tips
Integrating hidden texts for the screen reader
Manual control over moving elements (e.g. photo gallery)
Making adaptations to the date-picker window
Automatically incorporating special accessibility elements for all of the above to enable the screen reader software to read the text properly
Highlighting the elements that are in focus, in a customized manner
Handling objects that are dynamically added to the page
Developing customized JavaScript code
Developing customized CSS
Stopping code or design-based animations + manual control (e.g. photo gallery)
Stopping animated photos (gifs)
Changing the website to greyscale colors
Using dark backgrounds with light-colored text while increasing contrast
Using light backgrounds with dark-colored text while increasing contrast
Relatively increasing font size - 5 sizes
Changing the fonts on the website to easily-readable fonts without tags
Enlarging the mouse indicator and allowing the user to choose its color
Zoom-in window: enlarge the display on the browser (zoom)
Change the style of the links/titles on the website to stand out
Present an alternative description for images (alt attribute) in a small window that appears when moving the mouse over the image.
EQUALWEB MONITORING TOOL
Our ongoing monitoring tool periodically scans and monitors your website, showcases ongoing updates and highlights potential violation risks in regards to your site accessibility.
Our seamless interface allows our accessibility experts to view current issues or risks and project manage pending adjustments, using our AI-based technology.
Check accessibility errors of Web published content
Communicate all required updates to your Web team
Troubleshoot instantly to prevent potential recurrence
Fix any remaining errors and manually audit the website for full WCAG Compliance and Certificate
ACCESSIBILTY AUTOMATIC CHECKER
EqualWeb's simple Google Chrome browser plugin automatically scans and detects accessibility issues by locating and identifying 70% of potential problems.
Equalweb Checker only requires to download the plugin, to click on it alongside any website and to scan. Using our technology, the checker flags static and dynamic accessibility issues on any HTML pages based on WCAG 2.1 compliance requirements. Once scanned, the tool provides a visual checklist of most site accessibility issues. This tool can be used along with our remediation widget to begin correcting problem areas immediately.
Note that in order to achieve full accessibility, reach all users, and achieve compliance, it is recommended to sign up for a Full Remediation with our accessibility experts.
AUDITING
Equalweb offers full websites auditing and provides an actionable checklist of accessibility constraints to prevent potential lawsuits when it comes to complying with country's accessibility regulations.

WHY USING EQUALWEB?
EqualWeb has an ingrained experience of over two decades working for people with disabilities. Banking on this accumulated knowledge, the company offers a cost-effective accessibility solution that combines full WCAG 2.1 compliance with intuitive tools.
Governments, enterprises and small businesses already trust us in making their websites and all their digital content accessible.

Innovation is Equalweb's essential key.
We are using machine learning and artificial intelligence algorithms to make our solutions more autonomic, faster and reliable. We are proud to work alongside people with disabilities at every step of our development cycle to create a Digital world accessible to everyone.
Equalweb is listed among the 20 most forefront companies providing Compliance Technology Solutions and transforming business.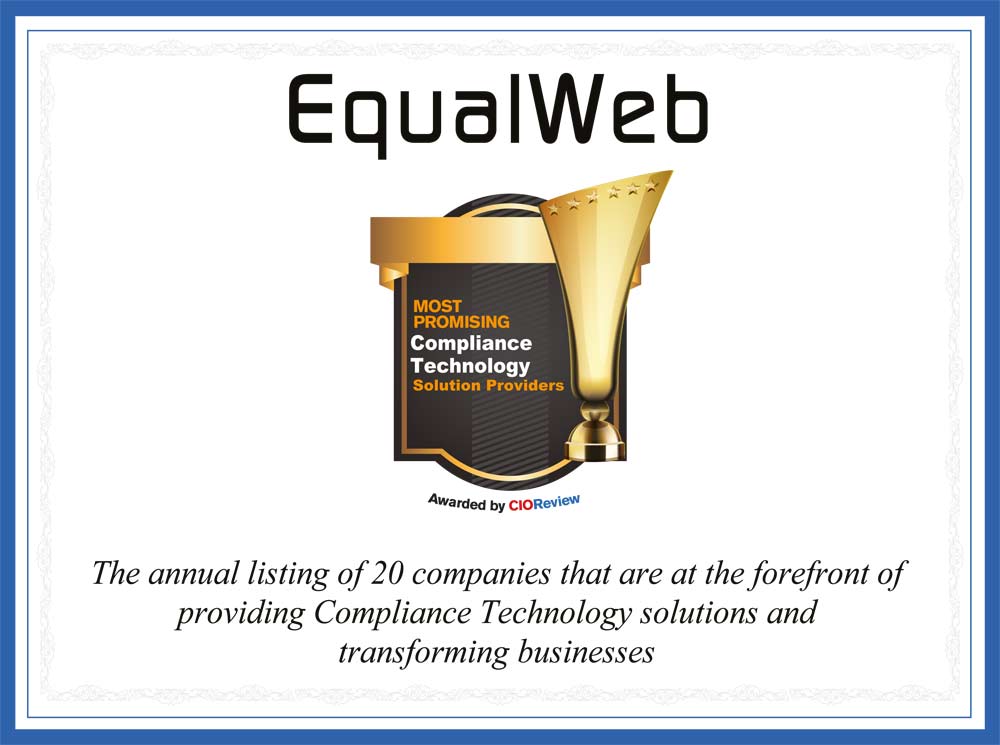 CONTACT US AND DISCOVER HOW ACCESSIBLE YOU ARE FOR FREE!
Our solution is designed so that everyone fully interacts with your Website and its digital full content.
If you want us to help you increase your revenue and comply with the existing regulations, do not hesitate to contact us.
Phone: +1(202)864-1844
Mail: info@equalweb.com
Web: equalweb.com