ADA website accessibility checker
What is a Website Accessibility Checker?
We'll start by looking at what a website's accessibility checker is. A website accessibility checker is commonly referred to as WCAG checker or ADA checker, and it's a tool for the automated discovery of Web content that meets legal and government regulations related to accessibility. These tools are commonly referred to as crawlers or screen readers because they can crawl through websites and read their pages aloud. It's often used to find errors that are not visible to the naked eye (e.g., text too small) or hard-to-find visual cues (e.g., borders around dropdown menus). The tool assists webmasters to provide a better user experience to everyone using their websites.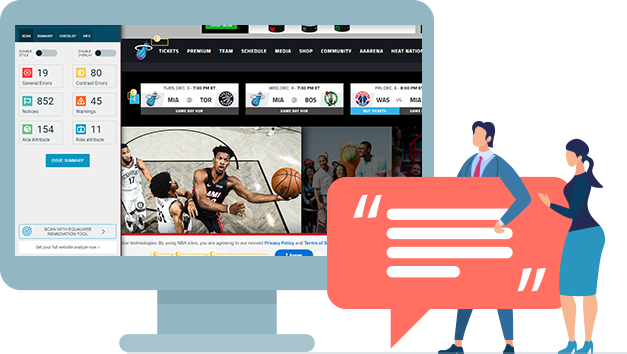 The EqualWeb Accessibility checker
EqualWeb's WCAG accessibility checker
The EqualWeb Accessibility Checker is a Web-based accessibility checker technology. It can be accessed in your browser or as an extension for Chrome. The accessibility checker gives you real-time insights into the errors according to the Web Content Accessibility Guidelines(WCAG) your users encounter, all while creating inclusive, barrier-free content for all your audiences. With Equalweb's Accessibility Checker, you can find out which of the most common web accessibility errors are present on your site. You'll be able to see what needs fixing and how it should be fixed. And if you're not sure about a specific error, we have an extensive list of resources that will help get you up to speed. If that's not enough, the Equalweb Accessibility Checker is FREE and easy to use! It takes just a few minutes to run a scan on your site, so there's no reason not to try it today! Get started now by clicking this link or downloading our website accessibility extension for Chrome from the Google Store.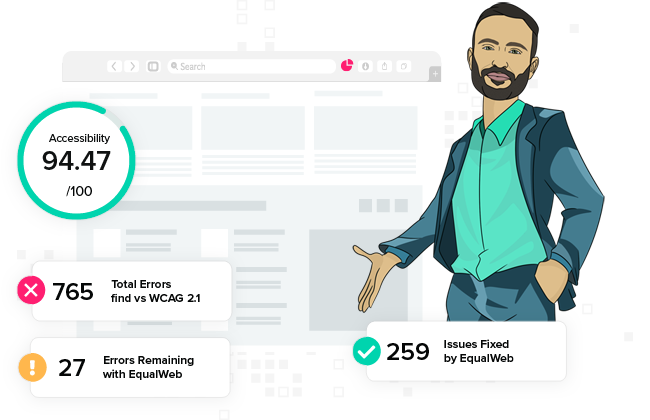 Get more control over your site accessibility issues with
EqualWeb's WCAG live monitoring
EqualWeb's Real-time Accessibility Monitoring scans the web page it monitors for compliance with the guidelines and other standards, in order to provide its clients a single accurate score of Website Accessibility. Reports are then delivered to the dashboard! And contains a full detailed explanation of every accessibility issue detected. EqualWeb's real-time accessibility monitoring service finds and reports any nonstandard extensions, plugins, or coding frameworks that may make a webpage inaccessible by scanning each webpage for WCAG compliance guidelines.
ADA Compliance Website Checker
Automated testing helps websites meet ADA standards.
We help web developers ensure their site meets or exceeds the American Disability Act (ADA) by providing automated accessibility test tools - also known as an "accessibility checker." Our solution detects and fixes issues that discriminate against users with disabilities, so you can improve your customer's experience while remaining compliant with federal law.
With EqualWeb you don't have to worry about whether or not people with disabilities will be able to use your websites - just run quick tests using our free online tool! All it takes is one click, and we'll provide you with an accessibility score as well as tell you exactly what needs fixing so that everyone has access to the information they need. We're committed to making sure no one gets left behind on the Web.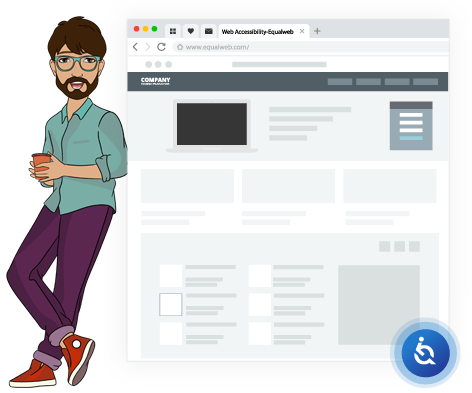 What does the accessibility checker
not check?
The accessibility checker does not yet cover certain areas of a website. Some features that the Equalweb Accessibility Checker can't test include:
SC 1.2.2: Captions (Prerecorded)
SC 1.3.5: Identify Input Purpose
SC 1.2.5: Audio Description (Prerecorded)
SC 1.4.11: Non-text Contrast
SC 3.2.3: Consistent Navigation
Web Content Accessibility Guidelines(WCAG) Checker
Auditing your websites for accessibility is important if you want to comply with the law and have a website that's accessible to everyone. The best way to audit your website for accessibility errors is to test it with EqualWeb's accessibility checker.
Quick note: The WCAG Page is a great source of information that walks you through how to better understand an accessibility checker result.
You want to make sure your online business presence is accessible for people with disabilities, but you don't know where to start?
Download Accessibility Checker For FREE
Accessibility checker FAQ
How It Works
Our Google Chrome browser plugin will automatically check for errors, locating and identifying up to 70% of initial concerns.

Download from the
Google Chrome App
Download the EqualWeb Accessibility Checker from the Google Chrome web store.

Open any page
website to scan
Open any page and click the EqualWeb icon on the Chrome browser. The EqualWeb sidebar will open automatically in your browser.

Click on Scan
button to start
Click on Scan with EqualWeb.

View checklist issues
by our accessibility experts
View checklist of immediate accessibility issues (up to 70%). Use alongside EqualWeb Web EqualWeb Ai Widget
Achieve accessibility compliance with a manual audit
Start Scanning Your Website