Web Accessibility is EqualWeb
The #1 web accessibility solution for enterprises
Meet all your needs in one place.
Get started
7 days FREE Trial Unlimited pageviews for any plan
The enterprise solution
EqualWeb offers tailor-made web accessibility solutions for every company, at every stage of growth, with any variety of needs. By joining our enterprise program we will help you fully meet ADA and WCAG 2.2 standards via our cutting-edge AI technology and manual remediation expertise.
We have a growing roster of international brands that have entered our enterprise plan and trust us to deliver accessibility and compliance services. We proudly achieve these demands, always with a smile on our face, and an eagerness to provide the best accessibility solutions for our clients.
Become an enterprise member today and enjoy a plethora of accessibility solutions, services, and consultations, including VPAT reports, monitoring scans, and more - all to maintain the highest accessibility standards and compliance with the law.
Request a demo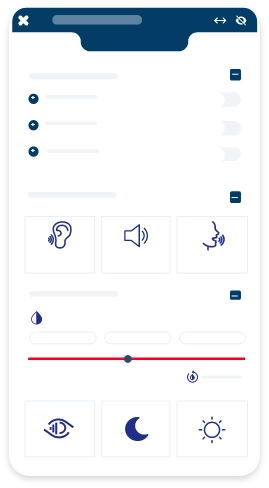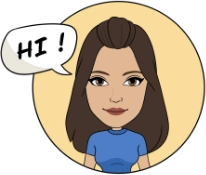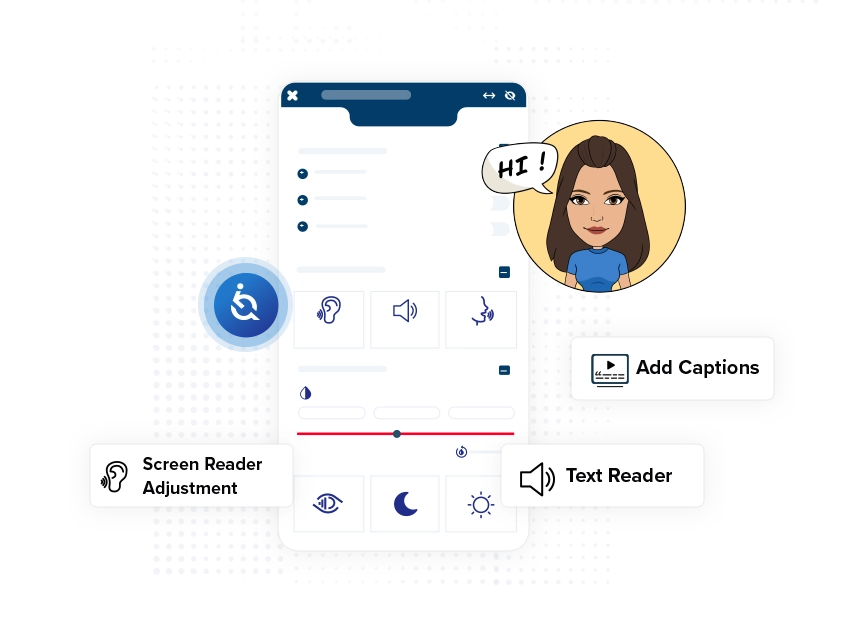 Trusted by leading brands to deliver first-rate web accessibility and compliance solutions
AI technology and human expertise combined
By joining the enterprise program you get a first-rate comprehensive solution, which combines our powerful Auto AI Accessibility Widget with our in-house expert remediation service for achieving and maintaining accessibility against ADA standards and WCAG 2.2 guidelines.
Auto AI Accessibility Widget
EqualWeb's AI-powered widget pushes the web accessibility market to new heights, serving as the standard and envy of web accessibility competitors around the globe.
The Auto AI button is fully customizable and can be elegantly integrated with your website design. The interface is lightweight, pops up super-fast, and does not slow the performance of the website for users who do not use the widget.
Start 7 days free trial
In-house specialized remediation
After adapting our services to your specific circumstances, our experts utilize a highly efficient and scalable apparatus to fix the accessibility issues that the Auto AI Accessibility Widget does not detect or cannot remediate.
Our experts do everything from repeated monitoring of your website, manually fixing accessibility errors, providing legal consultancy, training and guidance, reviewing audits, issuing reports (VPAT included), and a lot more.
Ask for quote
Enterprise benefits
Tailor-made plans
Worldwide compliance
$1,000,000 warranty
On-prem or cloud services
VPAT
Ensuring your privacy
Hybrid solution (AI + manual remediation + monitoring)
Highest security standards
IAAP-certified experts
Our experts are CPACC-certified and have vast knowledge and experience in the web accessibility field. CPACC stands for Certified Professional in Accessibility Core Competencies, which represents broad, cross-disciplinary conceptual knowledge about 1) disabilities, 2) accessibility and universal design, and 3) accessibility-related standards, laws, and management strategies.
The CPACC credential is granted by the IAAP (International Association of Accessibility Professionals) and is a stamp of approval for EqualWeb's accessibility specialists. You can learn more about the certificate here.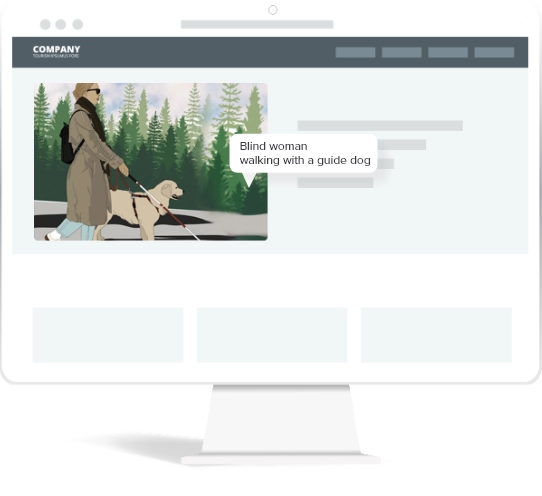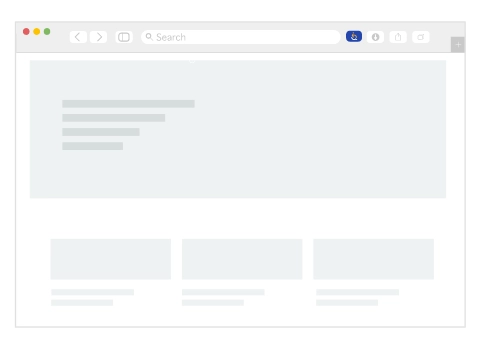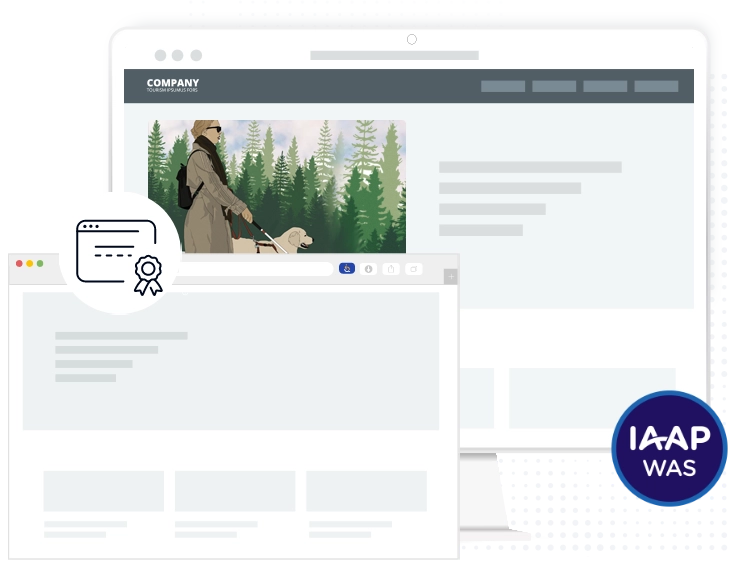 Monitor website and issue reports
Your website is dynamic. It undergoes changes and modifications, design is renovated, new templates are added, the code is altered every now and then, and the competitive online environment requires keeping up with the latest trends. Hence, maintaining web accessibility year-round is essential. Here EqualWeb's Monitor comes in handy for helping you maintain the highest levels of accessibility all year.
Unlimited scanning
Use the Monitor to exhaustively scan your entire website. The Monitor is a powerful software tool that can scan large and complex websites fast and comprehensively.
ADA & WCAG 2.2 testing
Test your website with the EqualWeb Monitor against ADA standards and WCAG 2.2 Level AA guidelines, for periodic accessibility maintenance.
Evaluation report
After completing the scan, the Monitor issues a full web accessibility report with all required fixes, their exact location on the website, a friendly guidance on how to fix them, and an overall score.
Scan on your own
The Monitor is simple and intuitive to use, developed with our clients' needs in mind. Don't wait for us to conduct the scan for you; start scanning today and receive results instantly.
On-prem services
The on-premises business version of the accessibility solution is designed to be deployed within open internal networks that have internet access. It offers an automated accessibility solution that can be customized with manual remediation options, allowing organizations to tailor their accessibility efforts according to their specific needs.
The installation of the solution takes place on the organization's subdomain. A subdomain is a subdivision of the main domain, typically used to organize and manage specific content or functionality within a company's website.
The solution has a requirement for SSL (Secure Sockets Layer) encryption. SSL ensures secure communication between users and the subdomain site by encrypting data transmitted over the network. This helps protect sensitive information from unauthorized access.
EqualWeb provides an HTML and JavaScript library that accompanies the solution's installation on the company's subdomain. This library includes pre-designed components and functionalities that can be easily integrated into the website, enhancing its accessibility features.
For more information, book a meeting with an expert.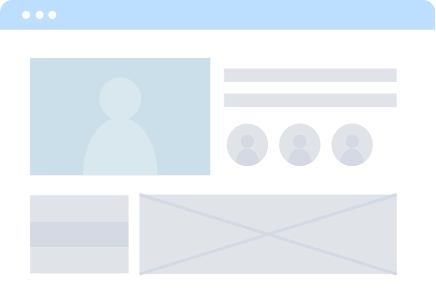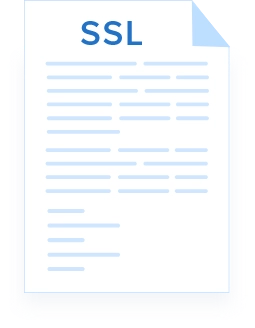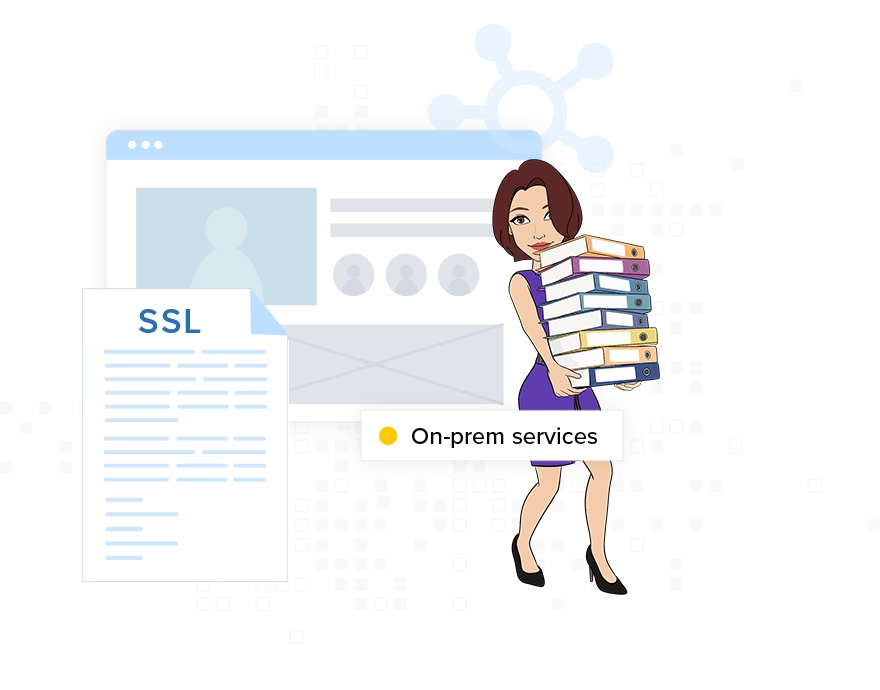 Cloud services (SaaS)
EqualWeb integrates JavaScript code into all website pages to address web accessibility issues. The application operates the accessibility button on the client side, triggering an AJAX call to the accessibility server when the accessibility menu is opened.
We use AI to improve the site's accessibility, making necessary corrections and modifications to adhere to accessibility standards. All accessibility rules are returned to the client side, where the required modifications are implemented in the website code. The system includes a management interface that handles accessibility rules, with separate management subsystems for each domain, allowing for domain-specific definitions and configurations.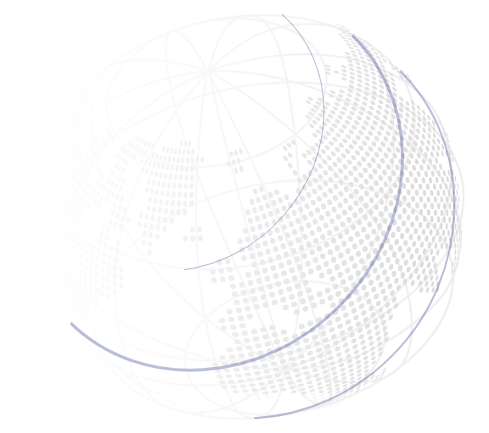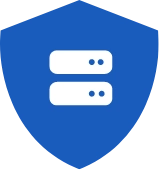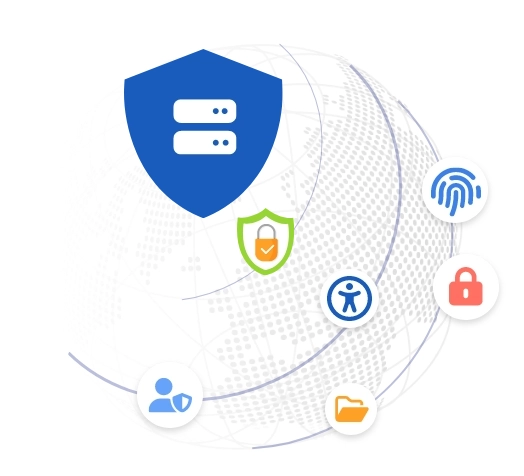 Enterprise essentials
Enterprise SLA
Our service matches your brand's needs. Your enterprise benefits from a dedicated project manager, phone and email support, and the fastest response time for our partners.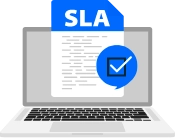 Highest security
standards
Adding JS scripts to your site could be a disaster. With EqualWeb, we take extra care with every installation.

Install on-prem or cloud
Depending on your infrastructure, we'll install our accessibility solution directly onto your servers, or in a secure cloud.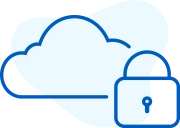 Monitoring and
reporting
Our relationship with you is ongoing. We continuously monitor your digital assets, provide you with monthly reports, and update and scale your accessibility as your organization grows.

VPAT
Scale up your compliance with a Voluntary Product Accessibility Template, expanding your potential client base to include government contracts.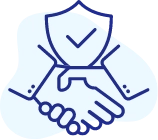 Warranty
Our goal is your compliance, and we stand by our promise. We guarantee $1,000,000 coverage for potential ADA lawsuits. Yes, we're that confident.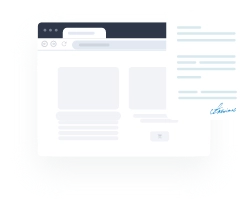 Join our enterprise program today
Become an enterprise client and benefit from all of the services and plethora of knowledge that EqualWeb can offer your organization, securing the highest accessibility standards and compliance requirements for years to come.
Meet our
happy clients
"ADA compliance was definitely a factor with our decision to choose EqualWeb.
In today's digital landscape, meeting ADA laws that cater to customers with disabilities has become crucial for businesses. EqualWeb understands this need completely, which is why tens of thousands of companies, ranging from Fortune 500 firms to small businesses, trust us to remediate their websites against the highest and most up-to-date international digital accessibility standards. We are honored to partner with companies like Motor Bookstore, who prioritize smart solutions that are not only cost-effective but also ensure inclusivity for all.
Michael Hornok, CEO of Motor Bookstore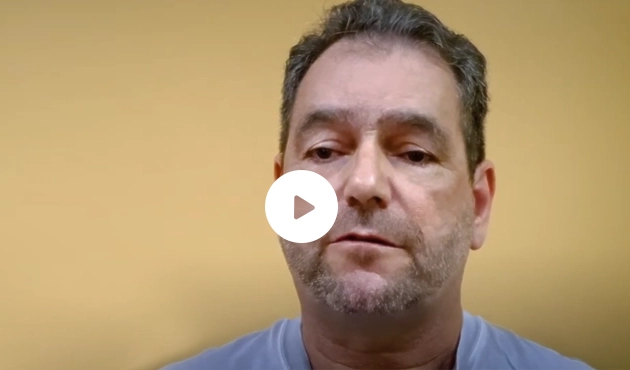 More Details
"I think everybody should provide [the EqualWeb] functionality to their websites.
Nuwber, after an extensive search for the best web accessibility solution, found that EqualWeb stood out as the top choice for website remediation. We are thrilled to offer our premier web accessibility services to fulfill Nuwber's accessibility and compliance needs. At EqualWeb, we pride ourselves on delivering the highest level of service to our clients and are grateful for their trust and support. Our commitment to exceptional accessibility solutions is exemplified by our loyal customers. Take a moment to hear the warm testimonial that Nuwber graciously shared with us.
Eugene Kirdzei, CTO of Nuwber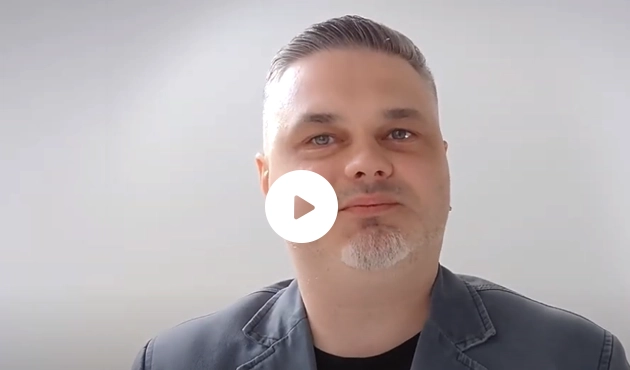 More Details
"I have to say that the EqualWeb team has been one of the best partners for Lenovo.
EqualWeb is delighted to cooperate with the world's leading PC company, Lenovo. We take great pride in providing top-notch web accessibility solutions for Lenovo's platforms. With Lenovo joining our esteemed list of loyal clients, we are grateful for their trust and support. We also extend our gratitude to Salo for her kind remarks, which attest to our strong partnership. Our collaboration with Lenovo reinforces our commitment to delivering exceptional accessibility solutions.
Hanna Salo, Senior Manager of the E-Commerce Business Unit, at Lenovo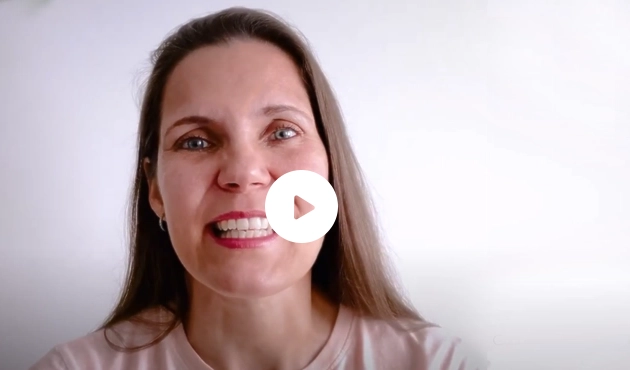 More Details