Web Accessibility is EqualWeb
The power of AI and expert customized remediation combined
A worldwide compliance solution.
Get FREE trial
7 days FREE Trial Unlimited pageviews for any plan
ADA Managed Compliance
The EqualWeb ADA Managed Compliance is the only web accessibility solution in the market to fully attain accessibility and compliance requirements.
Fortune 500s and small businesses alike use this plan to ensure their accessibility levels all year round.
This plan offers a first-rate comprehensive solution, which combines our powerful AI widget and in-house expert remediation, for achieving and maintaining accessibility against ADA standards and WCAG 2.2 guidelines, using state-of-the-art technology and a smart methodology that ensures your accessibility 24/7.
The ADA Managed Compliance plan is the most complete, comprehensive, professional, and scalable solution in the web accessibility market. Under the Managed plan you can rest assured that your digital assets are in safe hands, protected from ADA claims, and cater to the needs of those with disabilities who visit your website.
Book a meeting with an expert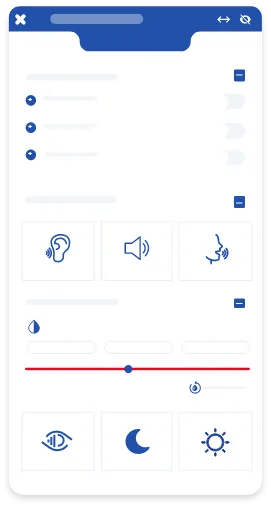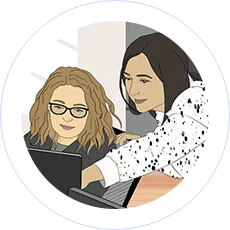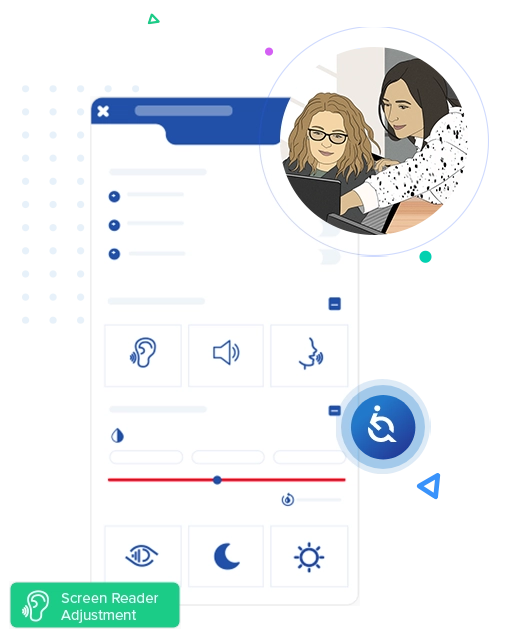 Managed Compliance essentials
The four essentials of the Managed Compliance plan consist of the solution, compliance, legal protection, and improved traffic and user experience. This plan fully implements our powered-Auto AI widget, plus manual fixes by our in-house experts, who utilize our advanced Monitor and/or Crawler enhancement tools, which scan, test and issue reports, thus achieving ADA compliance.
Hybrid accessibility solution
This is EqualWeb's hybrid solution, which integrates Auto AI remediation with accessibility expert auditing and fixing persisting violations, and periodic Monitor scanning to ensure you maintain your accessibility all year round.

ADA & WCAG 2.2 compliance
This plan ensures your website conforms to international standards of web accessibility as well as all legislation in the world. We guarantee compliance with regulations worldwide.

Liability support
The ADA Managed Compliance plan provides you with all the legal support, expert consultation, and conformance to regulatory standards that you need.

Increased engagement
One of the lesser-known secrets of web accessibility is that inaccessible websites are losing out on some 20% of potential customers who live with disabilities. Open the doors of your website and you will welcome more users, which will result in higher revenue. Makes sense, right?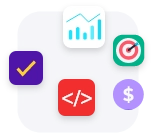 The hybrid web accessibility solution
Going the extra mile for full accessibility coverage
While automatic accessibility overlays are smart solutions that are favorable to many businesses—due to their automatic nature and noninterference with a website's code—they are far from providing a satisfactory accessibility solution. They also don't fully comply with WCAG 2.2 conformance levels, leaving many individuals with disabilities unable to engage with the website (read here more about the problems with accessibility overlays).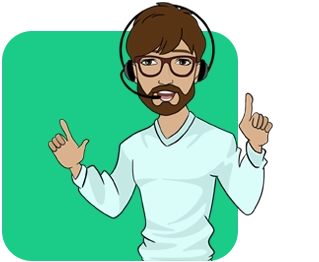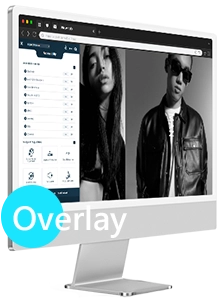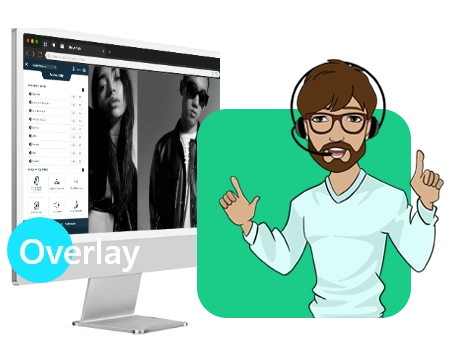 Big scaling, smart experts, reliable auditing
EqualWeb developed its pinnacle solution that derives its benefits from all worlds: a solution that integrates our powerful Auto AI widget with the scalable remediation conducted by our accessibility experts, and our Monitor software scanning tool. These three elements combined together assist in achieving web accessibility compliance year-round without worries, knowing that you outsourced your accessibility issues to a professional, experienced team of the Internet's leading accessibility solution company.
What's further appealing is that the ADA Managed Compliance still does not change the code on your website. All remediation techniques involve our enhancement tools that run on a separate server and don't affect your website one iota.
Get a quote now
Monitor
Auto AI
Expert
remediation
Fully compliant with EqualWeb
No matter which part of the world you operate in, we got your litigation concerns covered. The ADA Managed Compliance plan is the ONLY web accessibility solution that can level up your entire website to comply with WCAG 2.2 guidelines and regulatory demands worldwide.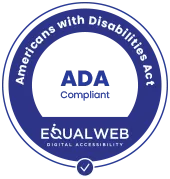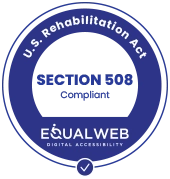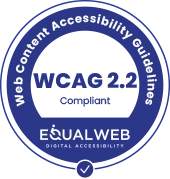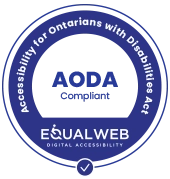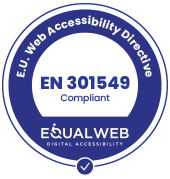 Managed accounts get the most
Dedicated account manager and technical project manager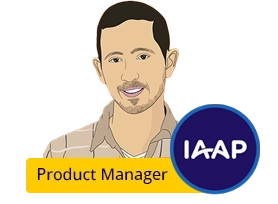 FREE Monitor scans that are subsequently displayed on your dashboard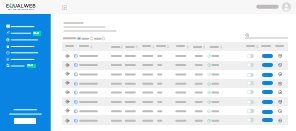 24/7 email and
chat support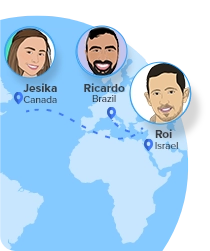 Become fully accessible and ADA compliant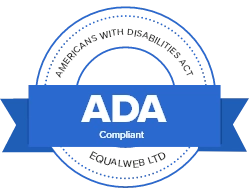 Lighting-quick
Auto AI interface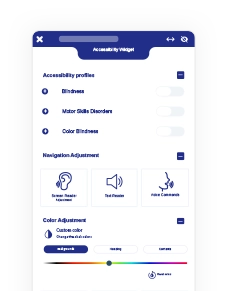 Digital remediation by the world's finest accessibility experts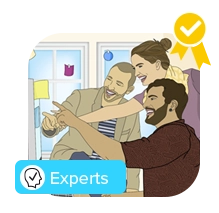 Certificate of performance
(VPAT option)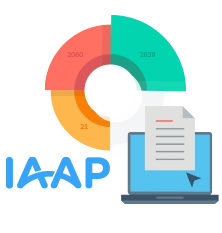 Accessibility consulting from the get-go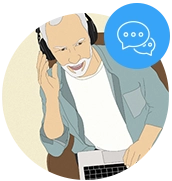 Schedule a meeting with an expert
The hybrid
solution
The EqualWeb process for meeting web accessibility standards and maintaining accessibility levels is unmatched in the market. It is a constant workflow that is executed entirely by us.
Our three accessibility mechanisms sustain each other and ensure nonstop success. The AI remediation tool automatically fixes accessibility issues, the experts use a scalable system to fix remaining errors, and the Monitor periodically scans for past and new violations.
Auto AI
1
Powerful AI enhancement tool that fixes accessibility issues
Monitor
2
Year-round maintenance with periodic reports to remain accessible
Experts
3
We audit, fix persisting errors, and maintain your accessibility
Auto AI Accessibility Widget
The EqualWeb Auto AI Accessibility Widget is a powerful interface that is displayed on your web pages (you may also customize this feature in alternative displays). Although the Auto AI widget offers sophisticated options for users with disabilities, it remains simple, friendly, and intuitive for use.
The Auto AI has three main remediating adjustments: Navigation Adjustment; Color Adjustment; and Content Adjustment. Each Adjustment has a dropdown menu of multiple 38+ accessibility functions catering to a wide range of impairment issues. We address each function in more detail further below.
To simplify matters, the AI has an "accessibility profiles" function, which allows the user to select his or her type of disability and automatize the entire adjustment process (more on this anon).
The widget also comes with 40+ languages, making your website accessible to users from all over the world.
Furthermore, it comes with an Accessibility Statement and a Send Feedback feature in order to allow your users to share their browsing experience impressions. This is a regulatory requirement.
Lightweight interface
EqualWeb's new lightweight design launches the Auto AI faster and allows for faster performance levels. Our goal is to level the online playing field so the browsing and navigation experience of users with disabilities runs as smoothly and with few difficulties as possible in comparison to regular users.
As for regular users, their web page browsing and engagement are not affected one bit as the EqualWeb technology runs independently from the website. They will not even notice the existence of the Auto AI tool.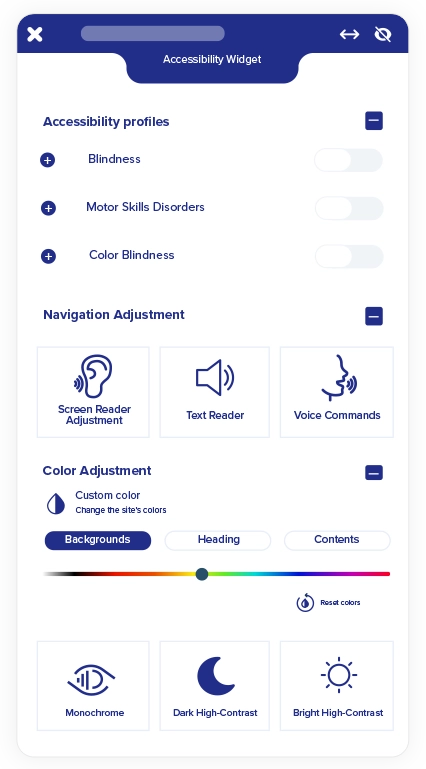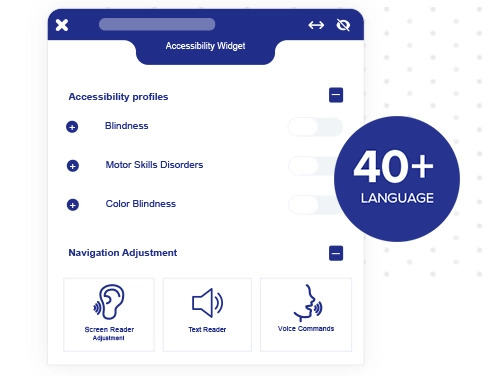 Customizable design interface & logo
EqualWeb clients enjoy a large design pool of customizing options of the Auto AI widget according to their aesthetic preferences. Alter the color, icon, location, or activation button of the Auto AI interface with our simple guidelines or via assistance from your account manager. You may also use your brand label on the interface if you wish.
Contact sales
Request a demo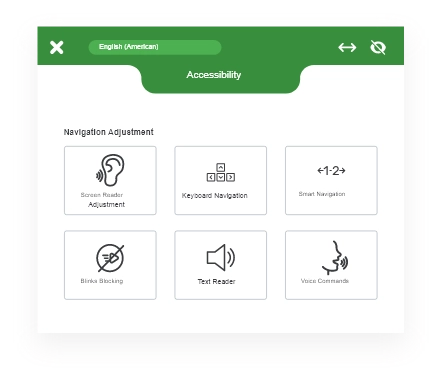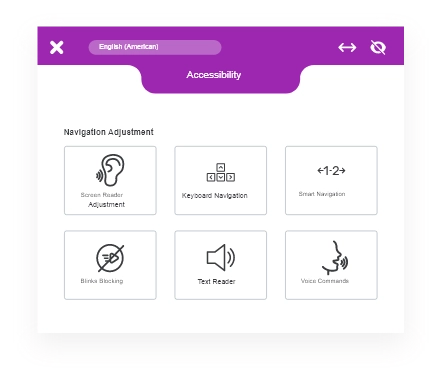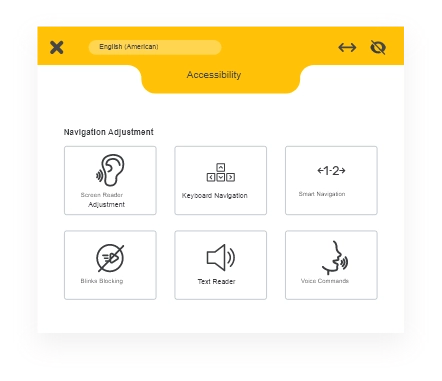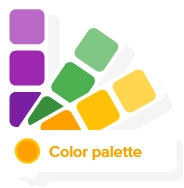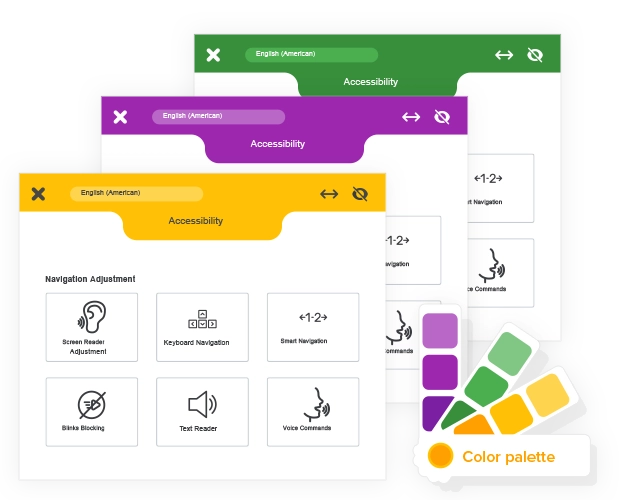 Auto AI functions
Users with disabilities can create the optimum browsing experience for their needs using EqualWeb's Auto AI Accessibility Widget. By simply toggling buttons on and off in the menus, users with impairments can navigate the website in a friendly and accessible manner, tailored to each specific need. The powerful Auto AI functions meet any disability type, from dyslexia to motor and audio impairments. The Auto AI offers a rich and easy-to-use interface comprising a total of 32 functions.
Certificate of performance (VPAT option)
By subscribing to EqualWeb's hybrid solution, which combines our cutting-edge AI technology as well as our in-house accessibility experts, you will receive a Certificate of Performance (and a VPAT self-assessment report option) once the manual remediation is concluded. This can be used for internal or external regulatory purposes.
Read more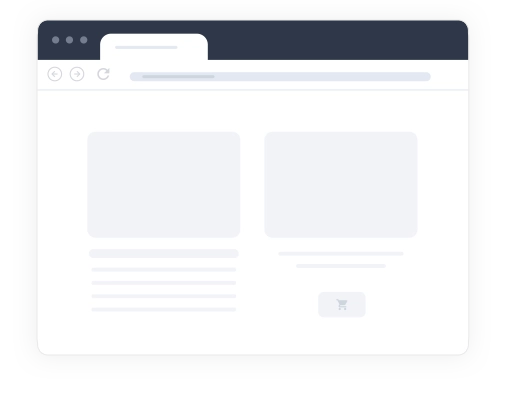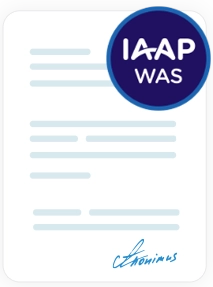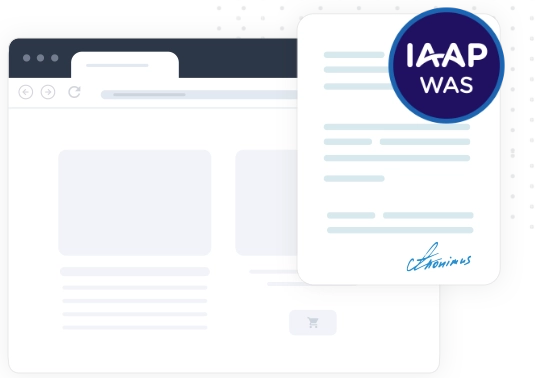 Have more than one website?
We have the ultimate solution at an
affordable price aligned with your needs
Contact us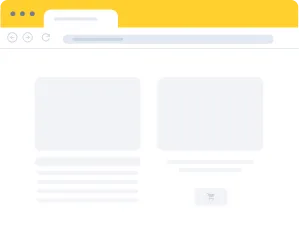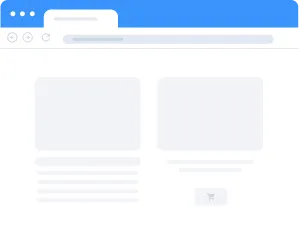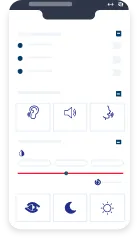 Managed special feature: in-house experts
After your Auto AI is nicely settled on your website, the EqualWeb accessibility experts come in and do all the rest . Our experts use a highly efficient and scalable apparatus to fix the remaining accessibility issues.
It is important to note that some accessibility issues cannot be fixed with the Auto AI tool. For instance, it cannot fix inaccessible buttons that link to new pages. For this reason we offer the ADA Managed Compliance plan as the best solution for web accessibility. With the Auto AI Accessibility Widget and our in-house remediators, no accessibility error will go unnoticed.
Our experts manually scan your website for errors as well as use our powerful Monitor enhancement tool for auditing any accessibility errors that exist on the website. After repeated scanning and thoroughly checking your website, the EqualWeb team elevates your website, finetuning it according to the highest and latest international web accessibility standards and guidelines.
Consult with expert for FREE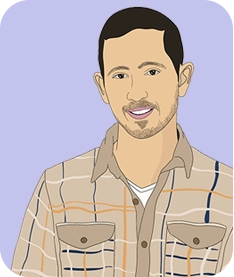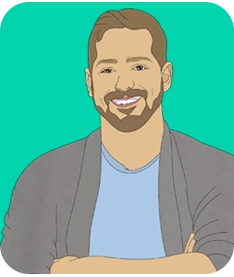 Manual remediation
We scan and fix
website violations
for you
Expert
support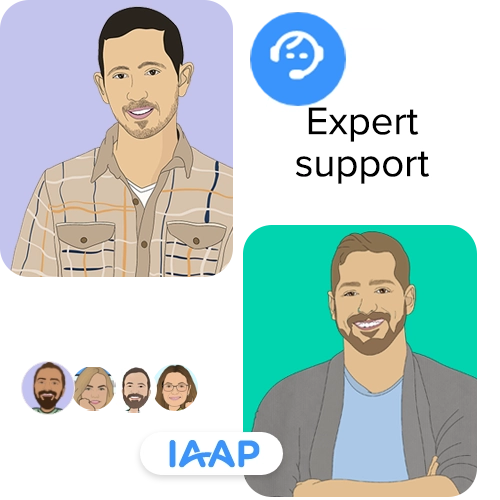 Monitor website and issue reports
Your website is dynamic. It undergoes changes and modifications, design is renovated, new templates are added, the code is altered every now and then, and the competitive online environment requires keeping up with the latest trends. Hence, maintaining web accessibility year-round is essential. Here EqualWeb's Monitor comes in handy for helping you maintain the highest levels of accessibility all year.

Unlimited scanning
Use the Monitor to exhaustively scan your entire website. The Monitor is a powerful software tool that can scan large and complex websites fast and comprehensively.

ADA & WCAG 2.2 testing
Test your website with the EqualWeb Monitor against ADA standards and WCAG 2.2 Level AA guidelines, for periodic accessibility maintenance.

Evaluation report
After completing the scan, the Monitor issues a full web accessibility report with all required fixes, their exact location on the website, a friendly guidance on how to fix them, and an overall score.

Scan on your own
The Monitor is simple and intuitive to use, developed with our clients' needs in mind. Don't wait for us to conduct the scan for you; start scanning today and receive results instantly.
CONSULT US FOR FREE
Confused?
Our accessibility expert is waiting to hear from you; contact us now for a tailor-made assessment of your specific needs - FREE of cost and no strings attached.
Contact an expert or start FREE trial
We are proud to offer this integrated and highly efficient solution, which is trusted by the world's most prominent Fortune 500s and small businesses alike and, simply put, is the best in the world..
Contact an expert now