ADA Compliance -
EqualWeb Digital Accessibility
ADA stands for Americans with Disabilities Act
The Americans with Disabilities Act is a civil rights law that prohibits discrimination against individuals with disabilities in all areas of public life, including jobs, schools, transportation, and all other places open to the general public, including digital assets such as websites and applications.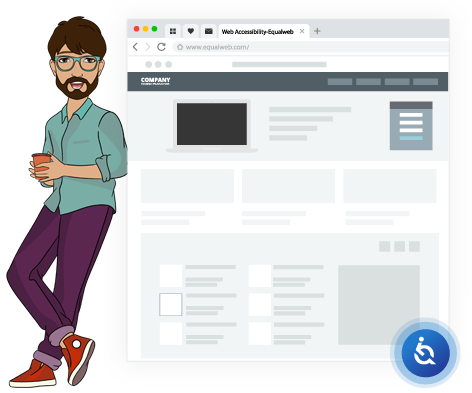 It's not just about not getting sued; it's about welcoming the people you care about.

Blindness

Visually impaired

Auditory

Cognitive

Motor Impairment

Epileptic

Elders
What is the ADA?
The
Americans with Disabilities Act
(ADA) is landmark legislation that prohibits discrimination against individuals with disabilities, aiming to facilitate equality in all areas of public life.

This includes the Internet, as enterprises with websites are compelled to "open their doors" to the large portion of impaired persons.
The code of regulations was enacted into U.S. law in 1990 by President George H. W. Bush.
The ADA was the direct result of years of effort of the disability civil rights community. Its legal framework can be traced back to
Section 504 of the 1973 Rehabilitation Act
, prohibiting discrimination of disabled recipients of federal funds.
It also builds on the 1964
Civil Rights Bill
to widen non-discriminatory laws and compensate impaired individuals who face inaccessible goods, services, employment opportunities, or public accommodations and activities.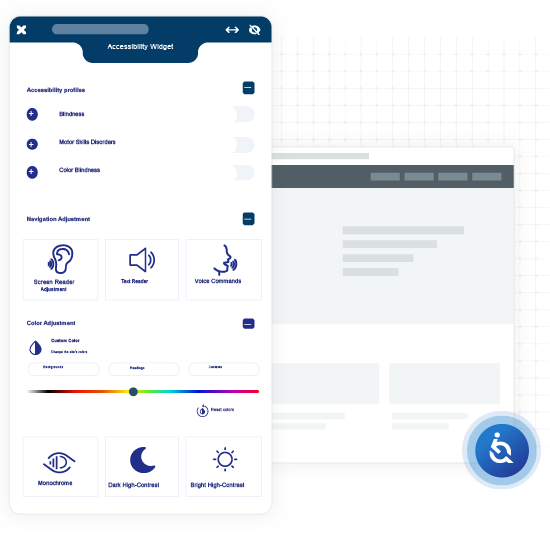 What do you need to know about ADA compliance?
While the language of the law specifies physical spaces, as it was penned before the Internet even existed (the first website went up in 1991), it clearly invokes principles of accessibility, not narrow guidelines.


This is why digital accessibility-related lawsuits have been surging in recent years, alongside claims settled privately.


Federal courts have demonstrated a favorable position toward the inclusive interpretation of the ADA (more on that anon), putting businesses and organizations with web assets at risk of liability.

Bottom line

:

ADA compliance

requires public and private enterprises to remediate their websites so that the significant population of disabled persons can gain access to products and services just like everybody else.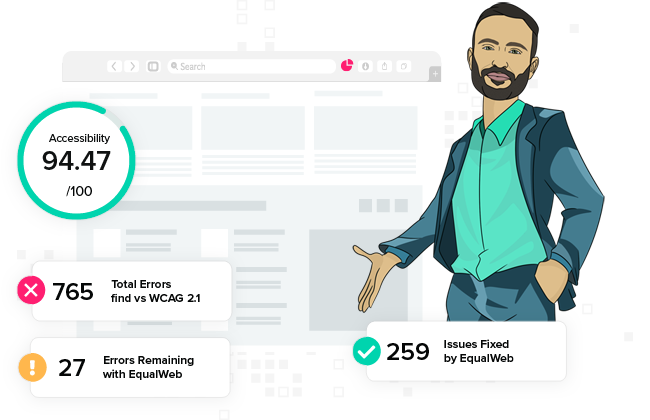 Why is ADA Title III relevant to you?
Title III of the ADA
deals with non-discriminatory rules applied to the private sector and non-profit organizations.
It stipulates physical "places of public accommodations and commercial facilities." However, the revised Title III Regulation of January 17, 2017 has made it crystal clear that the law applies to the Web as well.
Title III notes: "the Department [of Justice] has taken the position that title III covers access to Web sites of public accommodations."
Furthermore: "The Department has issued guidance on the ADA as applied to the Web sites of public entities, which includes the availability of standards for Web site accessibility."
Indeed, the DOJ has left this area somewhat equivocal—"The Department did not issue proposed regulations... and thus is unable to issue specific regulatory language on Web site accessibility at this time"—but recent developments suggest that companies should engage in preliminary protection against lawsuits and strive for full ADA compliance.
ADA history: Websites integrated with brick-and-mortar stores
Suit claims filed in federal courts have grown exponentially since 2018, with 10,982 ADA Title III cases filed in 2020. The trend only continued to grow in early 2021 (
according to a Seyfarth report
).
The precedent for web accessibility-related claims was set in 2006 with
National Federation of Blind v. Target Corp., 452 F. Supp. 2d 946 (N.D. Cal. 2006)
.
The plaintiff sued national retail chain Target for not providing accessibility on its website to the blind.
The case tested Title III of the ADA, as Target argued that it applies to physical spaces only.
But the Superior Court of California disagreed. It held that there was a sufficient "nexus" (a connection linking two or more things) between Target's physical and online services. The court concluded that many of the website benefits were services "heavily integrated with the brick-and-mortar stores" and therefore should be accessible as required by Title III.
Target and the National Federation of the Blind struck a civil action settlement in August 2008.
In the years to follow, this ruling expanded in its interpretations as more companies learned that while the ADA does not stipulate specific web accessibility standards, courts have ruled that the responsibility rests on them to provide access to the disabled, frequently referring to the independent Web Content Accessibility Guidelines (WCAG) as the conforming standard of ADA compliance.
What is the ADA compliance standard?
A cloud of ambiguity shrouds this issue. ADA Title III does not articulate specific web accessibility standards, though it does note that Congress will thoroughly address this issue in the future. Nevertheless, Title III does refer to the DOJ's updated guidance from 2003.

The guidance stipulates two resources that websites should adhere to:
Section 508 is an updated revision of 1973's
Rehabilitation Act
, defining and including web accessibility terms.
The section stipulates the more comprehensive resource, the WCAG, developed by the
World Wide Web Consortium
(W3C), as the standard to become ADA compliant.
As of today, WCAG 2.0 Level AA meets the required accessibility standards for websites, though the latest WCAG 2.1 Level AA would increase chances of meeting full ADA compliance, ensuring robust liability protection.
I fall under the SMB category, am I protected?
Small and midsize businesses are not immune to ADA Title III lawsuits. While high-profile cases draw most attention from the press, a majority of claims are actually filed against SMBs.


A court ruling in 2019 handed a victory to a blind man, Guillermo Robles, who sued Domino's Pizza after he was unable to order food on the pizza giant's website and mobile app, despite using screen-reading software.


The decision led to an explosion of suits and claims against all types of businesses with digital assets that did not comply with Title III.


With 10 federal class action lawsuits filed each day since 2020—and no signs of slowing down—small businesses are being targeted more often than before.


Most cases are filed in New York, Florida and California; however, targeted businesses are listed from all over the U.S.


Around 77% of suits in 2021 involved e-commerce websites, as industries of retail, banking/financial, food service, entertainment and leisure, travel and hospitality, and others have come under the scrutiny of lawyers and plaintiffs.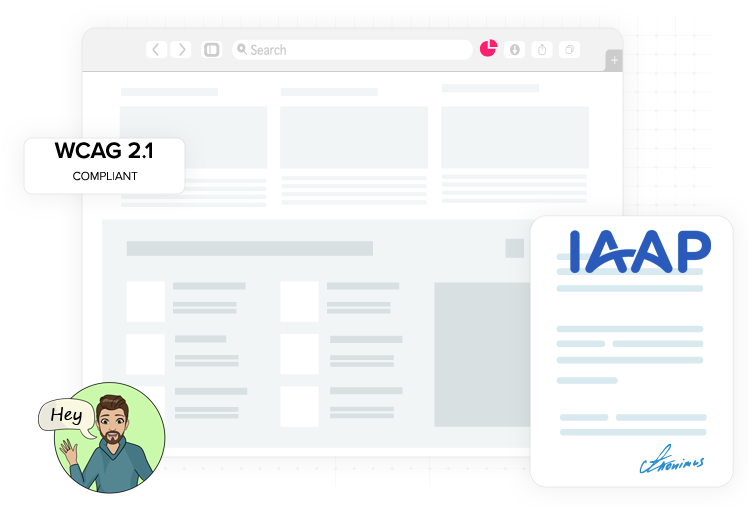 ADA compliance for Title I & Title II
Title I
Title I of the ADA
deals with non-discriminatory employment rules. It "prohibits private employers, state and local governments, employment agencies and labor unions from discriminating against qualified individuals with disabilities in job application procedures, hiring, firing, advancement, compensation, job training, and other terms, conditions, and privileges of employment."
Title I applies to all organizations with 15 or more employees, including state and local governments.
To date, Web accessibility-related lawsuits filed under Title I have been few.
Title II
Title II of the ADA
covers non-discriminatory rules applied to state and local government services and programs. As the Title stipulates, "The primary purpose of the ADA Amendments Act is to make it easier for people with disabilities to obtain protection under the ADA."
Title II applies to all services, programs, and activities provided or made available by public entities.
Established on the legal framework of Section 504 of the Rehabilitation Act of 1973, Title II expands prohibition rules in order to ensure access for the disabled in all government agencies, whether federal, state, or local levels.
If an individual has some type of disability, it does not mean that he or she shouldn't be able to benefit from the services and activities provided by the public sector. Government agencies should be able to offer their services to all citizens, including those with disabilities. This is what Title II aims to achieve.
EqualWeb provides full ADA compliance
The nuts and bolts of ADA compliance can be overwhelming. This is where the expertise of EqualWeb in the web accessibility and legal compliance fields becomes invaluable.
EqualWeb offers the best accessibility solutions in the market, tailored to small, medium and large businesses, including non-profit organizations, which will (a) open your goods and services to large swathes of the disabled population and (b) provide you with full legal compliance.
In fact, we at EqualWeb are so confident in our product that we include a $1,000,000 warranty in our all-inclusive services.
With a focus on making design decisions and incorporating the latest technologies, Equalweb has created an automated AI tool that allows for seamless integration into any website. This solution is designed as an easy-to-use platform that helps organizations and businesses meet government regulations while providing customers with an excellent user experience.
Our customers receive an Accessibility Statement and a Certificate of Performance as well, mitigating liability.
EqualWeb guarantees full ADA compliance
.
Click here for EqualWeb accessibility solutions.
Frequently Asked Questions