Web Accessibility Auditing
EqualWeb offers the best auditing options in the market, providing a thorough, detailed, comprehensive, and practical Web Accessibility Evaluation Report of your website against ADA and WCAG 2.2 standards. To get you started on your path toward accessibility we are offering a FREE audit of your website for a limited time only.
As a general guideline, a good web accessibility audit checklist should cover five aspects of a website to ensure a thorough evaluation of its accessibility. At EqualWeb we audit your website against WCAG 2.2 Level AA Success Criteria, which are the international benchmark for web accessibility.
Just contact one of our web accessibility specialists so we can get an understanding of your website's complexity before we get started.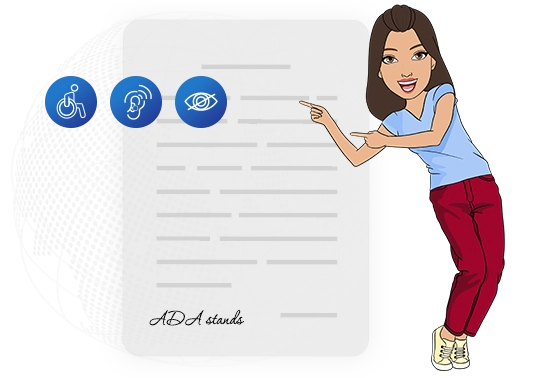 Audit your website for accessibility issues
Audit your website against the most up-to-date ADA standards and WCAG 2.2 guidelines for validating web accessibility and compliance with regulations in your country. Use the expertise of our certified specialists and powerful AI technology by booking an auding now.
Book a FREE audit
Compliment the audit with a Web Accessibility Evaluation Report
A Web Accessibility Evaluation Report is a document that provides a detailed assessment of a website's accessibility status. It is generated after the web accessibility audit is completed. The EqualWeb audit evaluates a website's compliance with accessibility standards, such as the Web Content Accessibility Guidelines (WCAG) and worldwide accessibility-related laws such as the Americans with Disabilities Act (ADA), the Accessibility for Ontarians with Disabilities Act (AODA), and the E.U. Web Accessibility Directive standard, known as regulation EN 301549.

The audit report typically includes an analysis of various aspects of the website, such as its structure, design, content, and functionality, with a focus on identifying accessibility barriers or issues that may prevent people with disabilities from accessing and using the website effectively.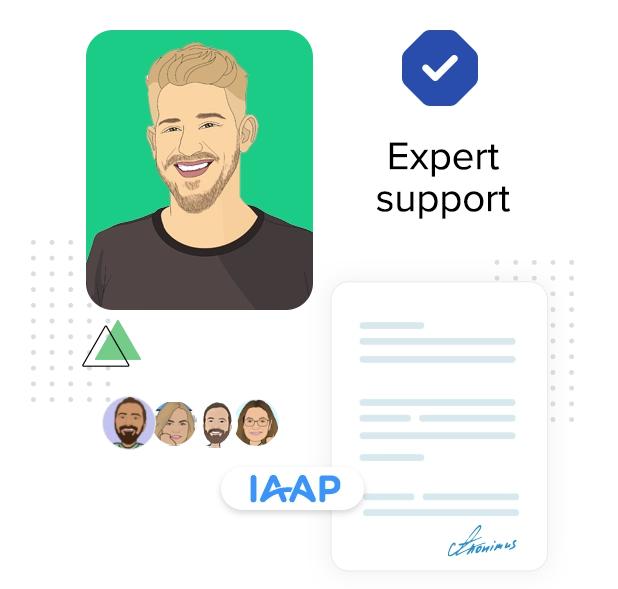 Know exactly how accessible you actually are
Auditing helps you know if your website is compliant with the accessibility guidelines which are outlined by WCAG 2.0 and ADA and Section 508 standards; as well as other related requirements such as providing alt text versus blank image text, making sure all links work correctly, including graphical button-like hover tabs, adding appropriate keyboard navigation, input labeling, etc. It is also an opportunity for web developers to learn how these protocols can be followed when working on new templates and content, making your website more accessible by implementing basic accessibility rules.

Web Accessibility Evaluation Report:
Overall accessibility score
ADA & WCAG 2.2 compliance validation
Number of errors
Number of errors fixed with EqualWeb
Issues by pages
Friendly guideline
Reliable and robust auditing solution
The diversity of people with various needs visiting your site from different countries should not be ignored when making decisions regarding the design, development, and marketing of your website. Users with disabilities visit websites as any other web visitor, however, more often than not they won't be able to gain access to all of your content. The purpose of an audit is to objectively measure what accessibility features are missing from a website, or which accessibility features can be improved.

An example might be a site that no longer includes visible content (which may be presented as "content hidden" in a screen reader), truncated text, blocks of text that cannot be focused on with the mouse, and any other number of errors or deficiencies.

The audit's results will require more complex technical fixes (such as CSS overrides) in order to make all pages fully accessible. A company's efforts to improve its website accessibility should not stop and be continuous to ensure accessibility compliance, as it's essential to keep monitoring and fixing accessibility errors to improve your users' browsing experience, regardless of capability or disability.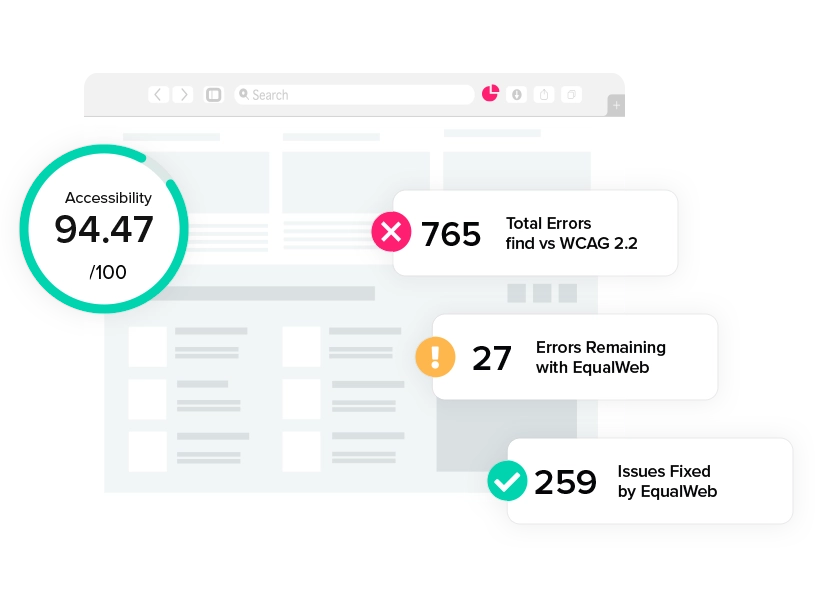 Auditing will guide your remediation efforts
By focusing on prioritizing the most critical accessibility issues first through an accessibility audit, changes can be incorporated faster and at a lower cost (since mistakes need to be corrected only once).

Did you know that Google renders website accessibility a priority in search engine optimization? Site owners may not realize it but website accessibility helps them rank higher on Google Search Engine results pages. Google's algorithm for website accessibility has been updated and now takes website accessibility standards into account.

A website with a straightforward, accurate, easy-to-navigate interface can help meet accessibility regulations, build credibility and trust with customers—and, consequently, strengthen customer acquisition. Businesses that put effort into accessibility gain visibility within an expanding minority market of potential consumers who are recognizing that these products make sense for them as well as help to level the playing field for all by improving inclusion and equality on the Internet.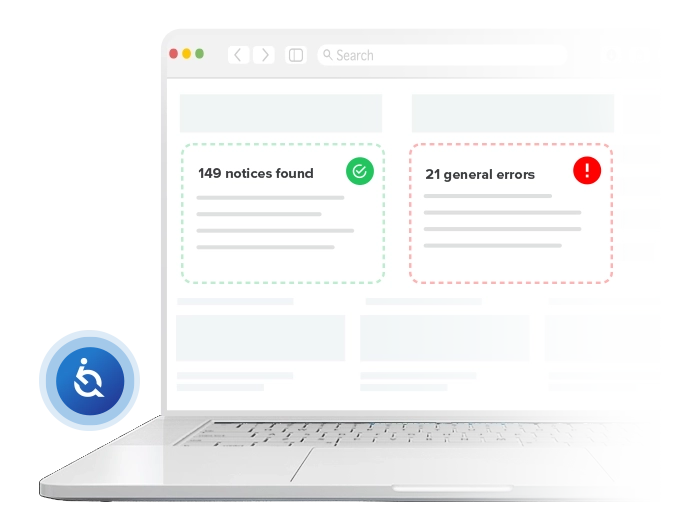 Audit with the powerful Web Accessibility Monitor
Our state-of-the-art AI monitoring technology powers our comprehensive and robust accessibility audit. It is the most powerful tool available in the market today.

With the accessibility monitor, included in our optional plans, website owners can ensure their website meets the latest international accessibility standards.

By adhering to these standards, you open your products and services to a wider audience, reduce liability risks, and enhance your organization's reputation. Moreover, it improves your search engine rankings, benefiting both individuals with disabilities and companies alike.
Get a web accessibility audit