Web Accessibility Training
Protect yourself from legal repercussions and equip your team with the necessary expertise in accessibility requirements, including the Americans with Disabilities Act (ADA) and Section 508 of the Rehabilitation Act. Stay up-to-date with the latest best practices and gain a thorough understanding of their implementation through our comprehensive web accessibility training programs delivered by industry experts.


Why invest in web accessibility training?
Technology changes every day. It's easy to see the differences when scrolling apps or websites of yesteryear. Design preferences shift, user experiences are streamlined, and new technologies enable greater accessibility for special-needs users. Just as your company invests in the latest in product development and customer research in order to stay relevant to your users, learning about web accessibility is equally crucial.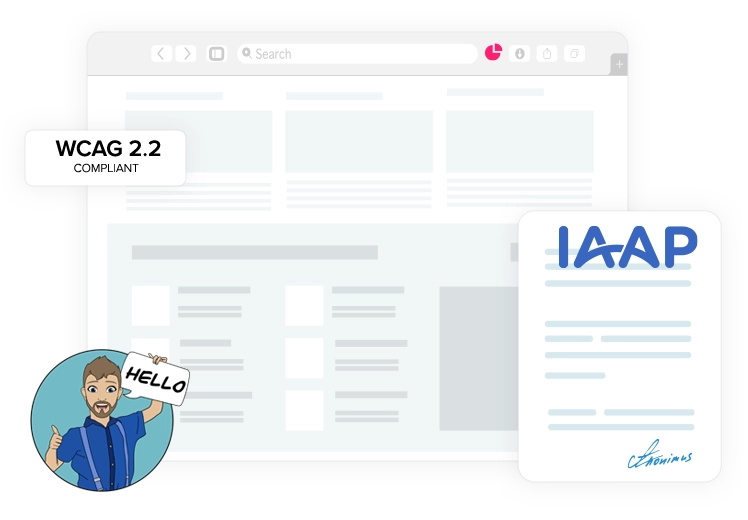 Web accessibility helps you to
Ensure user satisfaction
Keep up to date
Serve the widest potential audience
Comply with regulation
Minimize risk of litigation
Get a free consultation today
When technologies change,
it sets the bar higher
Each new technology influences changes in the standards and protocols that cater to users with disabilities and special needs. Educating your team will ensure that they are in alliance with the latest requirements, ensuring you are servicing the broadest potential user base, and protecting yourselves from litigation.

One in every five people in the United States lives with a disability. Don't lose out on this crucial user base by closing the door on them. Adults with disabilities or special needs are shopping online, engaging in website content, and using apps to improve their day-to-day. Welcome every type of user and increase your conversions by prioritizing web accessibility today.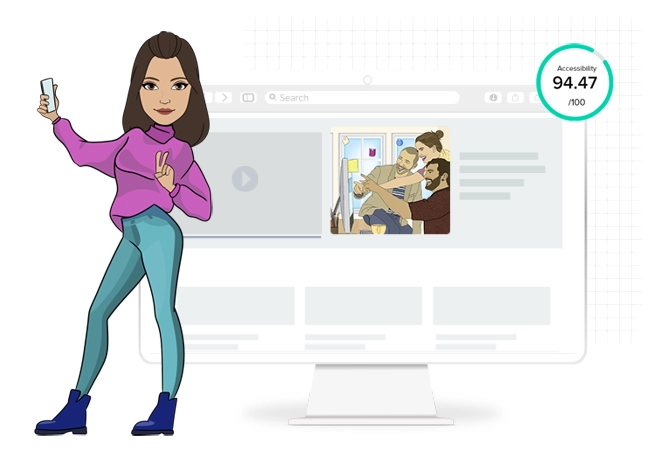 Teach your teams how to remediate
Web accessibility training helps educate your employees in using our accessibility tools best for you on the road to compliance. The EqualWeb services range from our simple DIY web remediation tools to custom audits and personalized consulting. Our team of web accessibility expert trainers are here to provide a customized solution specifically for your organization.
Full compliance

Embark on the road to full compliance.

Stay up to date

Stay up to date with the latest regulations.

Teams involved

Include a variety of teams involved in digital properties and customer service.

Accessibility solutions

Implement accessibility solutions code yourself.

Back-end solution

Work with EqualWeb`s one-line-of-code back-end solution.

Long-term strategic

Determine a long-term strategic plan for accessibility.
Start your training today
Who participates in training?
Strategy and marketing
Web developers
Content and editorial
UI/UX design
Web masters
Legal and compliance
Product development
What you get
Customized training
Various levels of instructions for different levels of knowledge
Tailored programs for your accessibility needs
Highlights of ADA, WCAG 2.2, Section 508 standards
Options for doing the remediation in-house
Sign up for training
Want to do the remediation yourself?
With EqualWeb`s semi-automatic widget, there is no need to change your entire source code on the back-end.
Together with our expert training team, we save you time and by implementing just one line of code - and we`ll take it from there.
Our team of expert engineers has spent years developing this extensive tool, based on real feedback from people with disabilities and special needs.
Learn to operate and control the system in-house, keeping all of your original source code - all you need is to embed one simple line!
Options

OPTION A

OPTION B

RECOMMENDED

OPTION C

SOLUTION

In-house manual implementation
Automated AI powered
accessibility solution
Automated AI powered
accessibility solution
Customize with manual remediation

DESCRIPTION

Receive a detailed accessibility report for your engineers to make individual changes to your site back-end
Insert one line of code, and we do the rest, including ongoing updates!
Insert one line of code, and we do the rest, including ongoing updates!

AUTOMATIC FIXING %

0%
Up to 80%
(up to 3 days)
Up to 80%
(up to 3 days)

MANUAL FIXING %

100%
0%
20%

ENGINEER`S EFFORTS

HIGH
LOW
LOW

COMPLIANCE LEVEL

80%-100%
Up to 80%
95%-100%

TIME TO FULL IMPLEMENTATION

3-12 months
Up to 3 days
Up to 30 days

INVESTMENT

$$$
$
$$

NEXT STEP

Start the training process today
Start 7 days FREE trial
Get your free consultation today