Web Accessibility Monitoring

EqualWeb Monitoring
EqualWeb's Web accessibility monitoring tool is the most powerful and robust technological solution in the market today.

The work toward equal access does not end after transforming your digital assets to meet accessibility standards. EqualWeb can perform periodic and repeated monitoring of your site.
Our monitoring tool showcases ongoing updates to your site accessibility standards and highlights potential violation risks. Our seamless interface allows all team members to view current issues and manage pending adjustments.
Our team of accessibility experts utilizes our AI-based technology to periodically scan and monitor your website:
Check accessibility errors of published content
Communicate required updates to your in-house team
Troubleshoot instantly to prevent potential recurrence
Fix any errors remaining and manually audit the website for full WCAG compliance and certificates
Remain accessible
As new content or technical changes are made, the new areas may need to be optimized for accessibility. In order to maintain your website standards and remain welcoming to everyone, EqualWeb offers a limitless monitoring option that not only highlights any issues but helps resolve them.

The monitoring tool ensures that your website is periodically assessed for potential accessibility issues, supporting you in removing them together with our team of experts.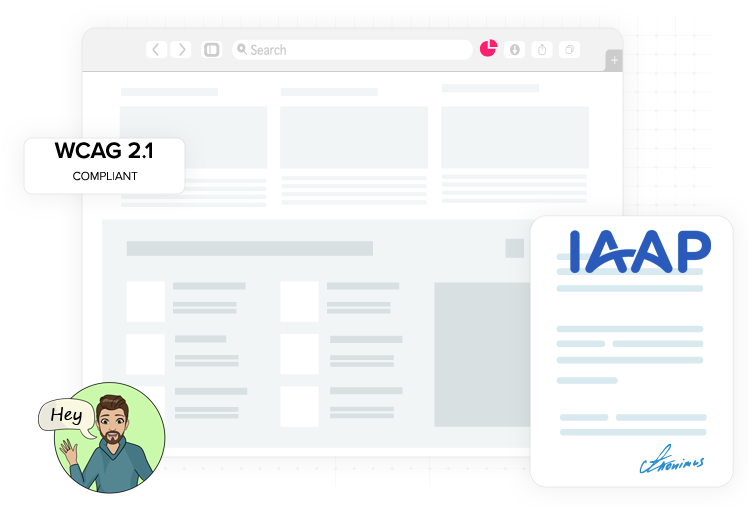 How does monitoring work?
EqualWeb's monitor scans your website domain to uncover any possible issues that may hinder accessibility or result in a violation risk for your organization. It's fully customizable and easily adapts to your website's design or template.

We schedule scans to monitor any changes to content, code, and user experience that could pose potential blocks to users. In addition, we keep track of existing rules, regulations, and technology regarding accessibility, so that you remain compliant.

Any updates to your site will be scanned and integrated with our accessibility AI ToolBar as well, so you remain accessible for all even as you add content to your website.


Upgrade your Ally plan
Insert site & generate code - Insert your domain and get the Ally code. Embed the code on your website and get a free 100 pages scan.

Report & compare
Now you can see what issues fixed by EqualWeb Ai and the remaining errors.

Upgrade to Premium plan
EqualWeb accessibility experts will fix any errors remaining and will manually audit the website for full WCAG compliance and certificate.

Ongoing maintenance
View checklist of immediate accessibility issues (up to 70%).
Use alongside EqualWeb Web Remediation Ai Widget
Start Scanning Your Website
Here's what you get
EqualWeb's monitoring service issues a report with your overall compliance score. It breaks down the total errors on your site, in accordance with the latest accessibility standards, and total errors fixed.
Our Web Accessibility Evaluation Report further displays, in great detail, all the guidelines of
WCAG 2.1
that were met or yet require fixing.
Here's where our accessibility experts come especially in handy and manually address issues that the automated process cannot, such as compatibility with screen readers and other assistance tools, including keyboard navigation, access to the programming language, and more.
EqualWeb provides you with this impeccable and encompassing service all year round, complementing our automated technologies.
EqualWeb monitoring features:
Ongoing accessibility maintenance
Assured compliance throughout web or content updates
Viewing of required adjustments and suggested fixes
Extremely important—alternate text editor
Preventative measures against violations
Availability at a variety of intervals, depending on site activity
Manual auditing of your digital assets
Accessibility Monitoring Scan Plans
Must file annual accessibility reports?
This is where our monitoring tool becomes a real treasure to your organization. Many governments require the publishing of periodic accessibility reports, including assessment of users' feedback and the addressing of feedback issues.

EqualWeb provides these compliance records with our monitoring technology in a cost-effective manner, saving you financial burdens and administrative energy.
Achieve Web accessibility today
At EqualWeb, we know that you have a broad audience of users from all backgrounds and abilities.
Our job is to ensure that your digital properties can reach every single one of them. We have developed our technology and expertise to support you in reaching all of your clients without barriers or difficulties.
As you begin your journey with EqualWeb, we will perform a website evaluation and issue a report before proceeding with the remediation required to make your website or app accessible. After confirming that the website complies with the necessary level of Web Content Accessibility Guidelines (WCAG 2.1), we continue to monitor your site so you remain compliant and accessible according to revised regulations and the latest accessibility technological standards.
Get Started For FREE