Web Accessibility Consulting
Get expert guidance
FREE consulting:
Schedule a meeting with one of our consulting experts and we will assist you with any question or issue you might have.
Why accessibility consulting?

Maintain compliance against WCAG 2.1 criteria
Comply with ADA and Section 508 of the Rehabilitation Act
Avoid unnecessary lawsuits
Increase turnover
Improve marketing ability
Prevent potential errors in website design
Prepare for accessibility adjustments in website planning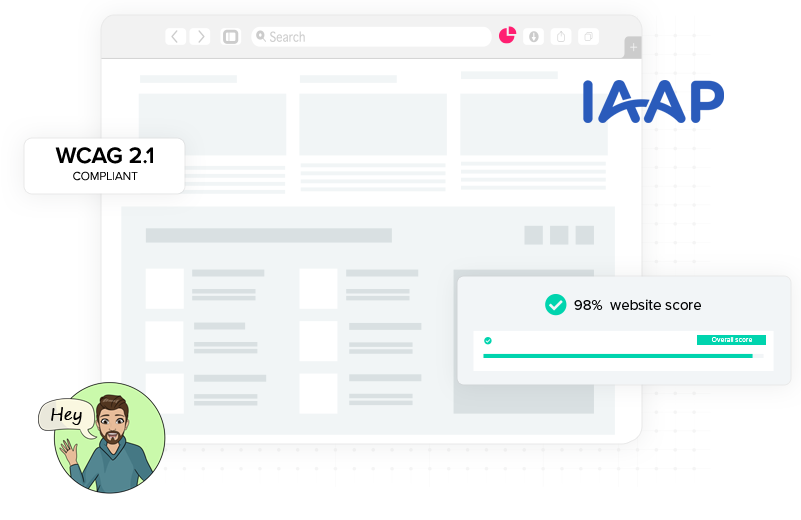 It's not just about not getting sued. It's about welcoming the people you care about.
Click to learn more
Web accessibility consulting
Don't know what accessibility compliance standard your website requires? Look no further.

EqualWeb has come up with an original solution to assist businesses to comply with the Web Content Accessibility Guidelines (WCAG) and attain and maintain compliance with standards and regulations by providing comprehensive Web accessibility solutions.

We at EqualWeb offer you a unique service of expertise consulting. Whether you are planning a new website, an app, or redesigning an existing digital property, EqualWeb's accessibility consultants are here to guide you through the process, ensuring that the final result is compliant with WCAG standards, inclusive for all.

We also provide specific Web accessibility legal consulting such as ADA consulting, AODA consulting, and more, for those looking to make their digital space accessible by performing ongoing accessibility testing on your website.
With EqualWeb's customized consulting package, our team will:
Build a Web accessibility business plan
Develop internal policy
Create a culture of accessibility
Define custom accessibility standards
Review all products for accessibility compliance
Provide support in implementing EqualWeb's remediation tool
Formulate web accessibility statements for your site
Streamline website design or redesign process
Integrate procedures into the entire project life-cycle
Troubleshoot design and development issues
Suggest custom coding for complex adjustments
Educate existing content, design, and development teams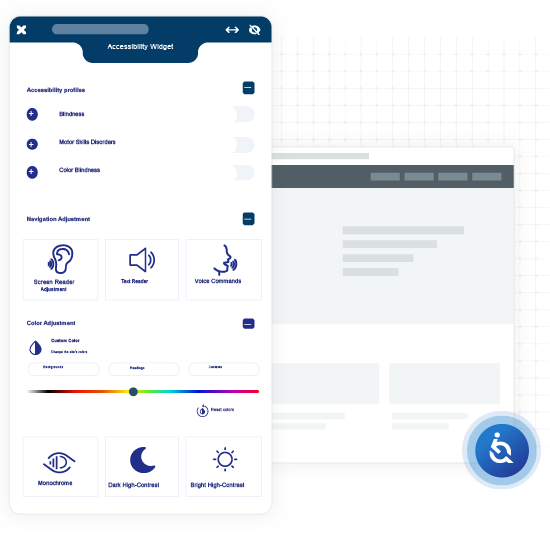 Consulting accelerates achieving Web accessibility compliance
EqualWeb's digital accessibility consultations service accelerates the pace at which business owners and their design teams can achieve compliance in accordance with the most up-to-date regulations to minimize legal risks.

We help in providing accurate and strategic planning of any of the international accessibility standards.

As a world-leading accessibility solutions provider, we've worked with many clients on vastly complex websites with constantly changing components, from nonprofit organizations and government agencies to fortune 500 companies and small businesses.
Don't lose out on valuable customers
Web accessibility is a hot topic these days, and for good reason. Websites are often the first point of contact between an organization and potential customers or clients. Ensuring that the website is accessible to everyone means you're opening your doors wide open, not only for those with disabilities but also for people who have different needs (such as those who speak another language).

Web content should be easy to read on any device (including mobiles or iPads), and there should be no barriers in using the website—whether when navigating through dropdown menus or accessing buttons.

Therefore, upgrading a website is a valuable investment. Our team of accessibility experts will analyze consumer behaviors, making sure that every headline, page, and image is designed to increase user engagement.

Each element is tailored toward the user, leading to conversions and revenue for your organization. Adding accessibility consulting to the mix ensures that your website is fully optimized not just for your desired conversion, but for each unique user and his or her needs.