Accessibility Consulting
Whether you are planning a new website or app or redesigning an existing digital property, we are here to guide you through the process ensuring the final result is compliant to WCAG 2.1 standards.
Why Web Accessibility?
Would you construct a tall building with no elevator or design a restaurant with only narrow bathroom stalls? Would you plan your organization`s meeting space knowing you might be turning people away based on their particular physical needs and abilities?
Today`s digital properties are yesterday`s physical spaces, and it`s important to be welcoming and accessible just as you would with the right brick-and-mortar accommodations. We live in a society increasingly aware of the importance of accommodating people with disabilities, and the ADA standards have begun to enforce that.
Working with Equalweb`s accessibility consulting services will go beyond ensuring you are compliant with ADA standards. We are here to guide you through the potential challenges, unforeseen pitfalls, and long-term visioning of your website or app to make sure you remain compliant, and continue to cater to every type of user.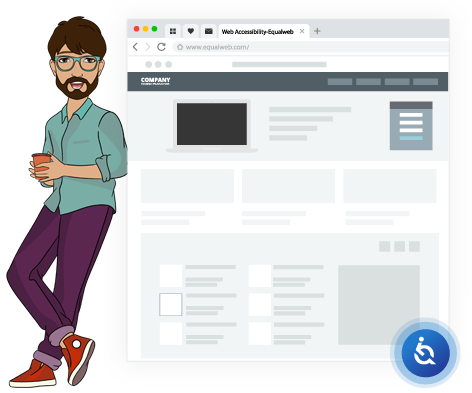 It`s not just about not getting sued. It`s about being welcoming to the people you care about.

Blindness

Visually impaired

Auditory

Cognitive

Motor Impairment

Epileptic

Elders
Don`t lose out on valuable customers. Welcome them in the door.
Upgrading a website is a valuable investment. Your team will analyze consumer behaviors, making sure that every headline, page, and image is designed to increase user engagement. Each element is tailored toward the user, leading to conversions and revenue for your organization. Adding accessibility consulting to the mix ensures that your website is fully optimized not just for your desired conversion, but for each unique user and their needs.
Why Accessibility Consulting?
Maintain compliance up to WCAG 2.1 standards
Avoid unnecessary lawsuits
Increase turnover
Improve marketing ability
Prevent potential errors in website design
Prepare for accessibility adjustments in website plan
Comply with the American Disabilities Act and
Section 508 of the Rehabilitation Act.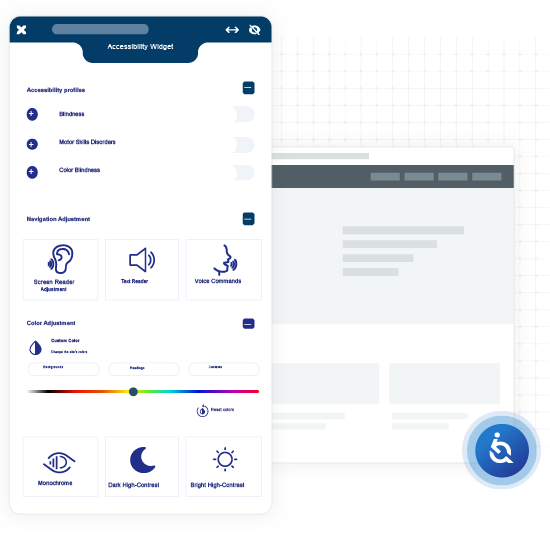 Book your free consultation today
At Equalweb, we focus on being experts in accessibility.
So you can keep on being the experts in doing exactly what you do.
Book Consultation Today
Customized Consulting Package
Our Web Accessibility WCAG 2.1 consulting services offer comprehensive consulting throughout your website design or redesign process. Instead of your team wading through information to self-educate on the standards, we do the hard work for you.
With a customized consulting package, our team will:
Build an accessibility business plan
Develop internal policy
Create a culture of accessibility
Define custom accessibility standards
Review all products for accessibility compliance
Support in implementing Equalweb`s remediation tool
Formulate web accessibility statement for your site
Streamline website design or redesign process
Integrate procedures into the entire project life-cycle
Troubleshoot design and development issues
Suggest custom coding for complex adjustments
Educate existing content, design and development teams