Who We Are
EqualWeb is the world`s leading digital accessibility development company, located in Netanya City. EqualWeb provides the number 1 web accessibility solution to businesses and organizations, of all sizes, since 2014.
Among the company
`
s ever-growing clientele are Fortune 500 companies as well as tens of thousands of small businesses and nonprofit organizations. Clients like Lenovo, Huggies, Bosch, Zara, Boohoo, ADT, Miami Heat, Budget, Avis, fiverr, Pull&Bear, nutella, and many others are all using EqualWeb
`
s state-of-the-art web accessibility product and services.
EqualWeb
`
s mission is to promote an inclusive and equal Web experience for all people, regardless of disability.
EqualWeb
`
s highly-experienced team of IT, accessibility experts, designers, programmers, marketing experts, and law experts are committed to effectively offering accessibility solutions for websites through a simple and cost-effective process, where its teams do (almost) all of the work, taking accessibility and compliance issues off the time and efforts of the client.
What we do
EqualWeb elevates an inaccessible website to the highest international accessibility standards as outlined by the Americans with Disabilities Act (
ADA
) and Web Content Accessibility Guidelines (
WCAG
) requirements and Success Criteria respectively.
The company offers several
plans and prices
that accommodate the business
`
s practical needs in alignment with the law
`
s requirements.
The web accessibility solution offered by EqualWeb essentially constitutes three steps:
Implementing the EqualWeb AI ToolBar on the website
Manually remediating remaining accessibility issues
Periodically scanning, automatically and manually, the website for accessibility issues
EqualWeb is the only digital accessibility company that integrates these elements into a whole solution, always remaining on top of the latest accessibility advancements and regulations, while providing up to $1,000,000 warranty.
Learn more
about the remediation process
Why web accessibility
According to the CDC, some 61 million Americans live with some type of disability. On a global scale, various estimates conclude, around 15 percent of the world
`
s population has some form of disability.
EqualWeb believes that this large portion of the population should not be left behind by technological advancements, as its inclusion will only benefit those including them and society as a whole.
Online inclusion has massive revenue benefits as well. Businesses with the EqualWeb solution have registered the growth of hundreds of thousands of users since introducing accessibility enhancements on their websites. Business reputation is another valuable factor that cannot be ignored in a culture highly sensitive to equality, diversity, and inclusion in the backdrop of the civil rights movement
`
s achievements over the past decades.
Lastly and simply, it is the law. Businesses that refrain from making their websites accessible risk hefty lawsuits that in court are almost always favorable to the plaintiff
`
s side.
Learn more
about the rising trend of ADA-related lawsuits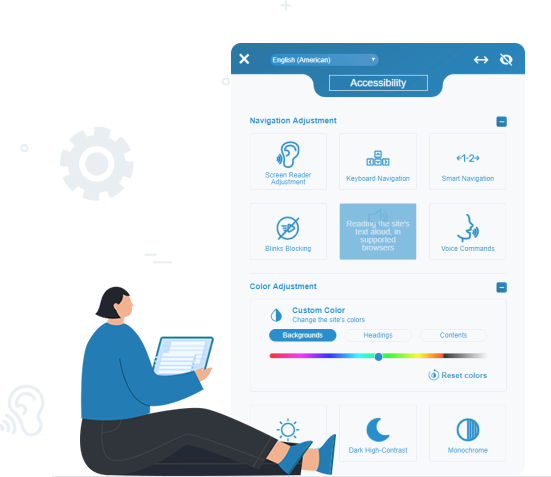 Here is what EqualWeb`s loyal clients have to say:
Our mission
EqualWeb is dedicated to the mission of making the web equal, which can only be achieved through the deep dedication rendered to its customers. EqualWeb`s goal is to help its customers attain equal access to everyone at a cost-effective and seamless browsing experience, providing the invaluable care-free assurance of litigation avoidance`making everyone a lot happier in the process.
We are here for you
After introducing EqualWeb`s powerful AI ToolBar accessibility interface to a client`s website, the relationship does not end there. The EqualWeb support line is open 24/7, along with accessibility experts, programmers, designers, and legal consultants who can assist in any way that they can.

The number one biggest benefit of working with EqualWeb is its team. Whether via email, phone, or Zoom, the EqualWeb team is always professional, cordial, and efficient, with a quick response time.

Choosing EqualWeb is choosing a committed partner to provide the best product and services in the market, enabling digital accessibility professionally and passionately-always with a smile.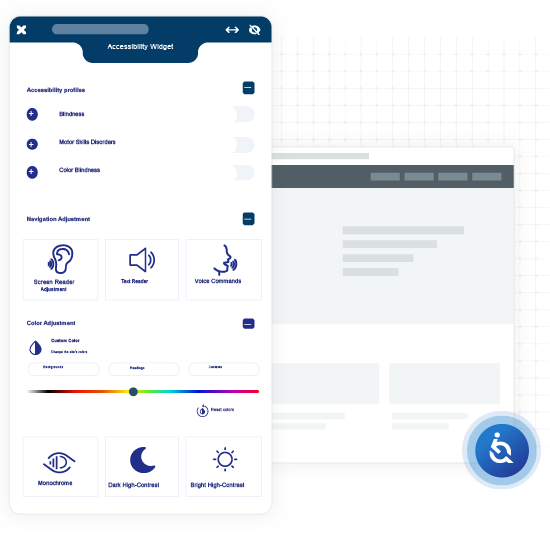 The EqualWeb team
Everyone on our team is a strong leader, pushing the company forward as we edge toward an Equal Web. We keep growing and flourishing with each passing day, as we believe in diversity and know that every new person brings a unique value to the company. Meet below the extraordinary people behind EqualWeb.
Looking for a career at EqualWeb?

We care
about your privacy
We're entirely invested in maintaining a highly secure and reliable environment for our customers.
That's why our security model covers all aspects of the EqualWeb platform. We're fully compliant.
Learn more