A world leading solution for digital accessibility.
Our mission is to make the digital world accessible to everyone.
Welcome to EqualWeb, promoting an equal web for everyone everywhere across the globe.

EqualWeb offers an international leading solution for Web accessibility. Our mission is to make the digital world accessible to everyone, regardless of ability or disability.

We are a company with more than two decades of experience in advanced Web and app developments. We began working side-by-side with the blind and people with disabilities in 2010, gaining experience in how to make websites and other digital formats more accessible and inclusive.

Our learning curve has helped us specialize in the accessibility field, developing the most advanced technological solutions in the market. We can proudly say today that our in-house developed AI and machine learning technology is the best you will find in the market, tailored to any organizational size or individual need.

Our inspired and highly-experienced team of IT, accessibility experts, designers, programmers, and marketing experts are committed to one common goal: effectively offering an accessibility solution for your websites via an extremely simple and cost-effective process.

And we have the trust of our clients to show for it. Gaining the confidence of many global customers, such as Lenovo, Adidas, CocaCola, Miami Heat, Subaru, Avis, Zara, and many other Fortune 500 companies to nonprofits and small businesses, our influence on the World Wide Web is growing with every passing day, making it a better, friendlier, and equal space for all.
We're here for you
After you introduce EqualWeb's powerful AI ToolBar accessibility interface to your website, our relationship does not end there. Our support line is open 24/7, along with accessibility experts, programmers, designers, and legal consultants who can assist you in any way we can.

When choosing EqualWeb, you choose a committed partner to provide you with the best product and services available, as we cater to your needs professionally and passionately—always with a smile.

We are dedicated to our mission and dedicated to you, our customer. We want to help you achieve equal access to everyone at a cost-effective and seamless browsing experience, checking your accessibility to-do task off your list. Our goal is to make you care-free of litigation risks and help you take care of all your users—making everyone a lot happier in the process.
EqualWeb is on a mission to:
Provide equal access to all people with disabilities
Spread our values of excellence, high-performance, equal opportunity, diversity, non-discrimination, and the belief that everyone is able
Exhibit these values every day, in every line of work, with each customer, demonstrating who we are at our best
Focus on doing what's right for our customers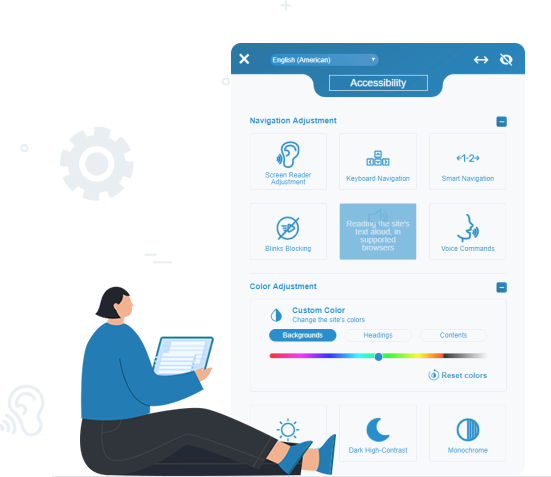 The EqualWeb team
Everyone on our team is a strong leader, pushing the company forward as we edge toward an Equal Web. We keep growing and flourishing with each passing day, as we believe in diversity and know that every new person brings a unique value to the company. Meet below the extraordinary people behind EqualWeb.
Looking for a career at EqualWeb?

EqualWeb is Trusted and Used by Industry-leading Companies
From Fortune 500s to non-profits, we've got you covered!
We care
about your privacy
We're entirely invested in maintaining a highly secure and reliable environment for our customers.
That's why our security model covers all aspects of the EqualWeb platform. We're fully compliant.
Learn more