Accessibility Report
Need a web accessibility report for your website?
EqualWebw's Web Accessibility Evaluation Report is the most comprehensive and detailed report you can find in the market. If you want to know how compliant your website actually is, how many accessibility issues need fixing, and the existing accessibility gaps between your website with and without the EqualWeb technology, this report will deliver these data and more. In addition, we have taken extra measures to ensure the report is friendly for use so you don`t get lost in all the details.
Issue a Web Accessibility Report NOW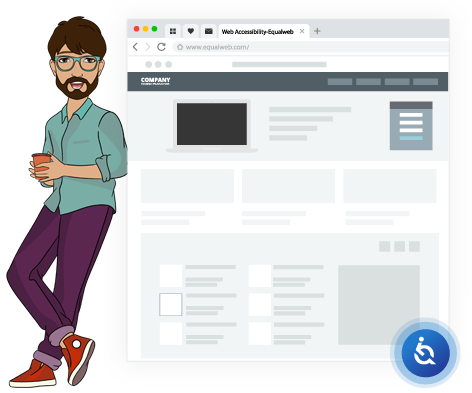 ADA & WCAG Compliance Report
Our state-of-the-art monitor scanning technology tests your website against ADA and WCAG 2.1 standards, as well as compliance requirements from other countries such as Canada's AODA, and the European Union's EN 301549.

After we complete scanning your website, you will receive a report via email with your compliance score and all accessibility issues.
How does it work?
Depending on your purpose, we have all the necessary tools to conduct the most thorough scan of your website. The EqualWeb
accessibility monitor
is an advanced AI technology that runs through your website for any accessibility issues, testing them against the most up-to-date international accessibility standards and regulations.
However, the automated feature is not the only tool at our disposal. For a full web accessibility process, we also run a manual check with our accessibility experts. The manual scan is no less important than the automated scan. As many accessibility providers chiefly focus on an automated audit, we always recommend running the manual scan as well, because as a company that has remediated websites for over a decade, we know that some accessibility fixes require the human eye.
Modern websites have many features that could go overlooked during the automated scan, which is why manual monitoring is a must.
Once the manual monitor is complete, we use our automated tools again to scan the website, until we are certain that we covered every text, button, image, video, and other features of your website. When this process is over, we issue the report to your email in a PDF file.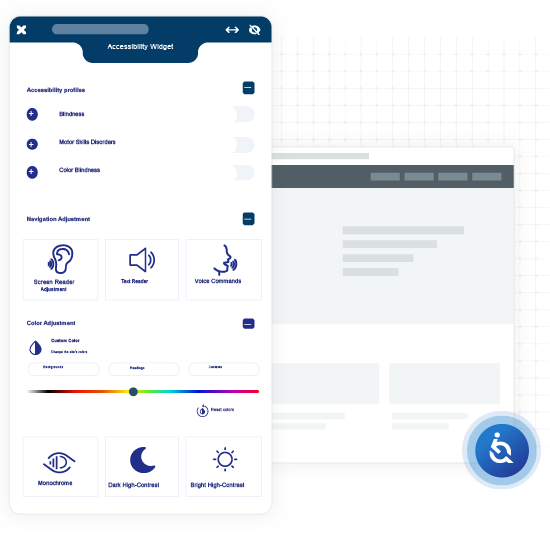 VPAT Report
EqualWeb can assist you in generating a VPAT report. The report accurately reflects your accessibility status as well as the existing gaps between your website and legislative standards (if they exist). After EqualWeb conducts the VPAT for your organization, it is discreetly yours for use. We at EqualWeb ensure as a top priority the privacy and security of our clients. For more information about
VPATs
.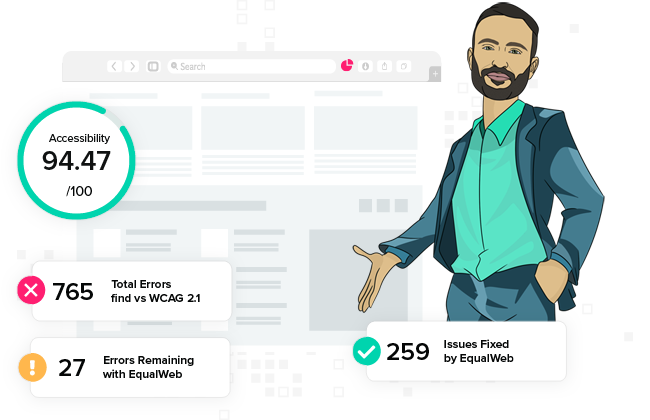 Security and Privacy
At EqualWeb we care about the privacy of our clients. We are deeply focused and engaged in providing the highest levels of security measures to ensure the confidentiality of your digital properties and data. EqualWeb does not interfere in any way with your website's code. The monitor scan is completely external and does not modify any element on your website. All of our digital products are designed with the most rigorous standards of security in mind. Our consultants are knowledgeable in the highest privacy standards, ensuring that all conversations, digital data, and proprietary information are kept safe throughout the process. Moreover, the report is confidential and fully yours to use, for any purpose. You can use the report for internal analysis, for the benefit of your clients, or for governments that require periodic web accessibility reports.
Get Web Accessibility Report