Our Product
Equal Web is the world`s
#1
leading solution for making your website and all you digital content accessible in 3 easy steps. Insert our script and we take care of the rest.
Read more

1
Step one:
Insert script
Insert one line of JS code.
We are fully protected and we do not take any data from Your website.
2
Step two:
Web accessibility adjustments
Our professional web engineers will review your website and make adjustments, according to Web Content Accessibility Guidelines (WCAG) 2.1, without modifying your code.
3
Step three:
Web site accessible
Your website will now be fully accessible for more than 15% of the community that have disabilities, who can now enter and read your website content.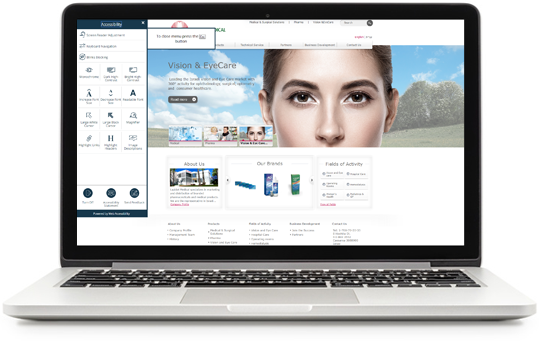 Website Accessibility Remediation
In the digital world, the process of eliminating barriers for people with disabilities has become essential. Our Company has developed a new technology that offers a cutting edge accessibility solution that can be deployed immediately, it is easy to use, and meets international accessibility standards. TThese standards were in the Web Content Accessibility Guidelines (WCAG) 2.1 by the World Wide Web Consortium (W3C).
5
5 Great Reasons to make Your website accessible for people with disabilities:
Help people with disabilities to access your website
Improve your SEO (Search engine optimization) to get more traffic to your website
Build Positive Publicity - Building an accessible website can also help your reputation!
Get more business by addressing to millions of more people
Avoid lawsuits by complying with the standards
5
5 Great Reasons to make Your website accessible with Equal Web:
Complies with wcag 2.1 AA and US Section 508, Americans with Disabilities Act (ADA) and European Union Law EU 301549.
More than 10,000,000 pages are accessible with Equal Web

Transform your website to be accessible without developing a single code or entering the source-code
Accessibility monitoring tool for making your website continuously accessible
We provide the fastest and efficient Web Accessibility solution in the market
Our Clients
Equal web is the world`s
#1
leading solution for making your web
and all your digital content Accessible.
Thousands of companies trust Equalwe
Join us and make your websiteaccessible