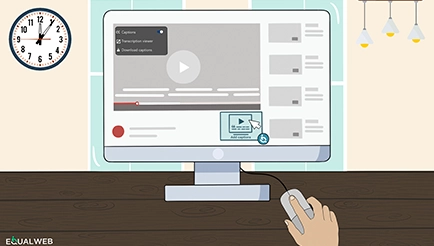 Closed captions for videos and audio content enable people with hearing impairments to understand the content. EqualWeb has become the first web accessibility vendor to provide a video and audio closed captions option for people with disabilities as part of its automatic services.

The unique benefit of the function is that it's entirely automatic. Moreover, as the website owner, you can modify the automatic generic text if you find a mismatch between the video and the text (the AI may miss a few words here and there), using the Captions Editor in your dashboard.

The closed captions function includes a simple on-and-off activation button, a rating vote for feedback purposes, a new transcription window over the video or audio element, and a captions download option. The captions' font conforms to the Web Content Accessibility Guidelines (WCAG) 2.1 standards for easily accessible fonts.

More Details