Web Accessibility Testing
Testing a website for accessibility is essential to ensure inclusivity, legal compliance, and a positive user experience. By conducting accessibility tests, website owners can make their content accessible to all users, regardless of disabilities, and meet legal requirements such as the ADA. This improves the overall user experience, expands the potential audience, and enhances the website's reputation. Additionally, accessibility testing can provide improvement in search engine rankings and align with social responsibility, demonstrating a commitment to inclusivity and empathy.
Test your website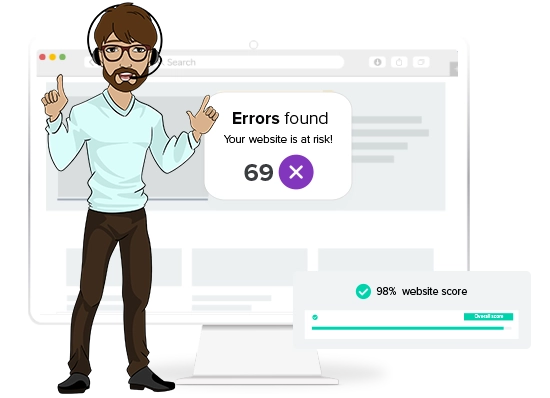 Why test your website for accessibility
Web accessibility testing is a great tool for decision-making. By testing your website against compliance requirements you get to know your accessibility and legal status, from which your following decisions will be much easier and clearer to make. Before deciding on a web accessibility provider, you can test your website, see how far it is from reaching WCAG 2.2 and ADA standards, and then make knowledgeable decisions for your business. At EqualWeb, we can help you select the specific accessibility plan that will be right for you. Schedule a meeting with one of our experts who will gladly answer any questions you might have.
In addition, an accessibility report can be useful for a number of reasons:
Updating websiteAre you about to modify some content and design on your website? If you know where you have accessibility issues and where you do not, you can save yourself double (and costly) work in the future.

Redulatory demandsMultiple countries require periodic reports for regulatory reasons. Many companies prefer to delegate this responsibility to external accessibility vendors. This will save these companies time, energy, and money.

Legal assuranceInstead of living in uncertain conditions, know your accessibility score and how likely you are to be handed a lawsuit, while also knowing how much remediation work is needed to elevate your website to minimum accessibility requirements.
Test your website and get a report
The Web Accessibility Evaluation Report includes:
Overall accessibility score
Number of errors
Number of errors fixed with EqualWeb
List of guidelines for WCAG 2.2 issues against Success Criteria (Levels A and AA), with descriptive information and particular scores for every issue
Issues by pages
Our goal is to help you achieve WCAG 2.2 AA conformance, the international industry standard, and be accessible and welcoming to all users. By testing your website with EqualWeb's evaluation monitor you`re making your first step toward full regulatory compliance and WCAG 2.2 conformance.
Test your website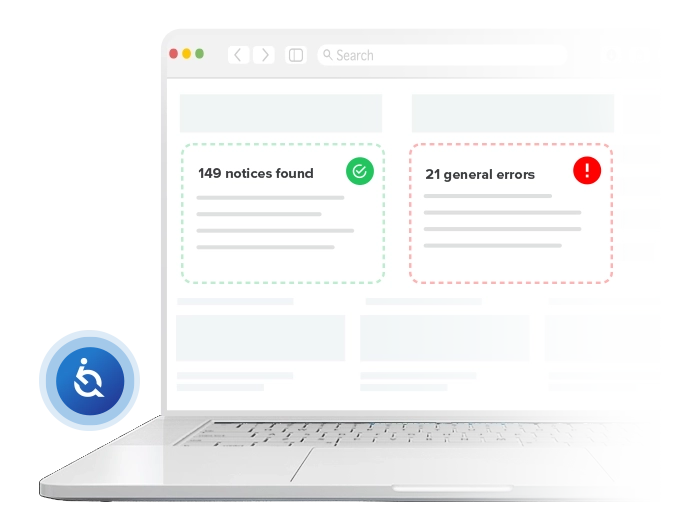 Accessibility for those with disabilities
Test your website and get started on the road to an accessible future! According to the CDC, there is more than 20 percent of Americans with some type of disability. Getting your website on par with accessibility standards is really the minimum requirement in today's regulatory environment and cultural atmosphere.

Inclusion and equity are two important factors for all respectable organizations, and leaving people with disabilities unengaged with online content will soon be a bug of the past. All website owners and designers should strive for the most up-to-date accessibility industry standards as the digitized world becomes more and more essential in people's lives.

Leaving people with disabilities behind is just not an option. As the Department of Justice (DOJ) stated on March 18, 2022: "People with disabilities deserve to have an equal opportunity to access the services, goods and programs provided by government and businesses, including when offered or communicated through websites."

Test now